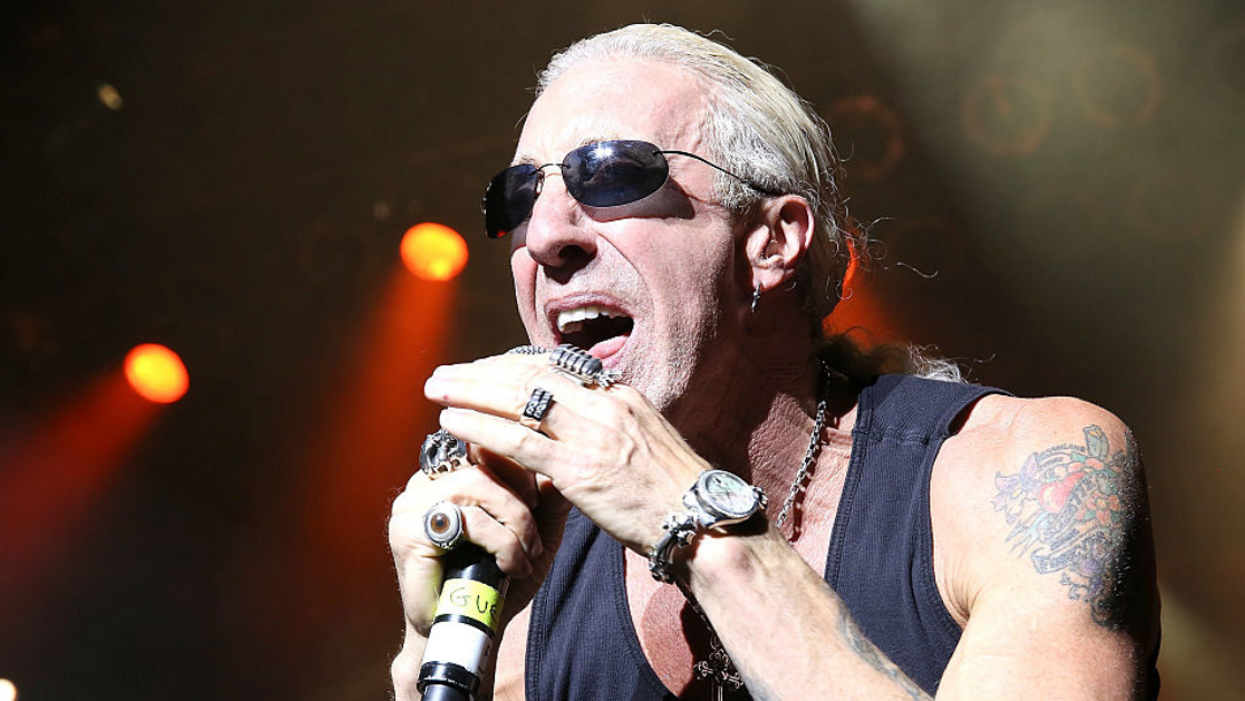 Twisted Sister rocker Dee Snider lashed out at "MAGAT FASCISTS" who've used the band's hit song "We're Not Gonna Take It" during campaign rallies for former Republican President Donald Trump and candidates that have received his endorsement.
Writing on Twitter, Snider said that the song was never created with Trumpists in mind, saying that the song was written by
"a cross-dressing, libtard, tree hugging half-Jew who HATES everything you stand for."
Snider added that it was people like those who subscribe to the QAnon conspiracy theory and who have backed the MAGA movement's anti-democracy ideology "that inspired every angry word of that song," telling them all to
"F**K OFF!"
You can see Snider's tweet below.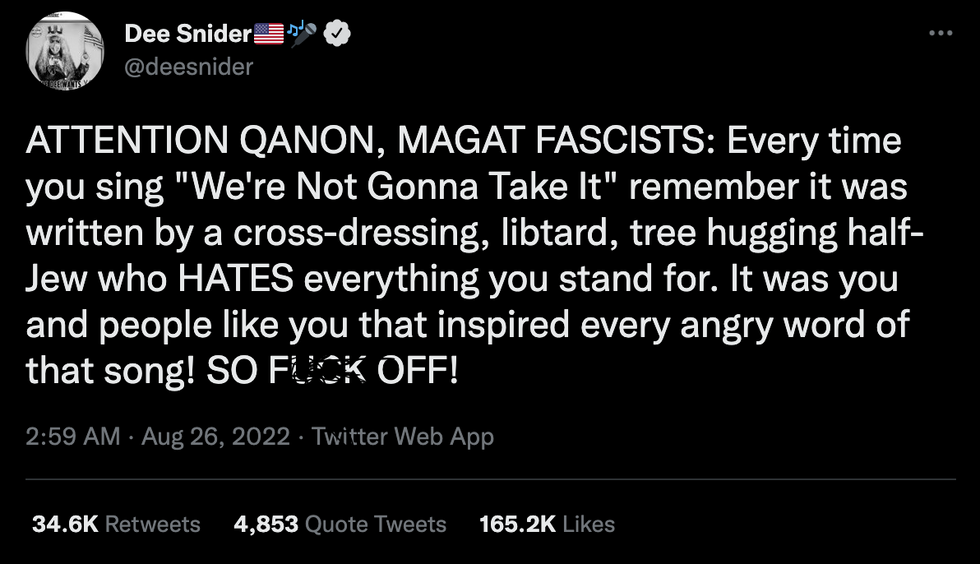 @deesnider/Twitter
Many musicians—a list that includes Neil Young, Adele, Rihanna, and The Rolling Stones—have complained about the use of their songs during MAGA rallies.
Trump himself has in the past ignored cease-and-desist letters that have admonished him for using songs by artists who have vehemently disagreed with him and who do not want to be perceived as aligned with him or his politics.
Twitter users had Snider's back.
— Weesterwoodworks (@Weesterwoodworks)
1661659090
\u201cDee is more of a balls to the wall hero than many seem to realize.\u201d

— REWetzel (@REWetzel)
1661635688
— Alma Fellows \u262f\ufe0f (@Alma Fellows \u262f\ufe0f)
1661658325
\u201cAahh just ANOTHER reason to LOVE Dee Snider! \ud83d\udc99\ud83d\ude4c\ud83c\udffd\ud83d\udc99\u201d

— Melissa \ud83c\udf0a (@Melissa \ud83c\udf0a)
1661666110
\u201cI've gotta give Snider credit for not mincing any words.\u201d

— Mr. Mike (@Mr. Mike)
1661694179
\u201cDee has always been a class act!\u201d

— AlucardsQuest (@AlucardsQuest)
1661632394
\u201cTrump supporters are just about the last people in the world the song was intended for, self-identified \u201clibtard\u201d Snider schooled them on Twitter. In fact, he pointed out, they are exactly the kind people that inspired the song.\n\n\ud83d\udd25\ud83d\udd25\ud83d\udd25\ud83d\udd25\ud83d\udd25 https://t.co/089UgGFmEZ\u201d

— Ladyred #VetsResistSupportSquadron (@Ladyred #VetsResistSupportSquadron)
1661689688
\u201cHow many times has the GOP used a song only for the artist to be like \u201cplease stop\u201d \ud83d\ude02\ud83d\ude02\u201d

— NazliAy (@NazliAy)
1661642079
\u201cI loved him when I was a kid and I was right to love him. Keep up the fight my dude!\u201d

— Donnie Apple (@Donnie Apple)
1661627729
Snider has complained about MAGA supporters using "We're Not Going to Take It" in the past.
Last month, he criticized Arizona Republican gubernatorial candidate Kari Lake after learning her campaign had used the song at her campaign rallies.
While Snider acknowledged that people don't have to "get permission to play any song at an event," referring to paid licensing agreements that allow venues to legally use an entire catalog of music, he said that he "WILL denounce" those he disagrees with.
Later, he noted the hyper conservative Lake was using a song "NEVER intended for you fascist morons" because the first line is what he called a "PRO-CHOICE anthem."
Snider said as the singer and songwriter "I DENOUNCE EVERYTHING" Lake "STANDS FOR!"
Lake's campaign was unrepentant, later responding Snider was once "anti-establishment" because he once testified before Congress about music censorship during hearings in the 1990s about the "dangers" of rock music.
This content was originally published here.