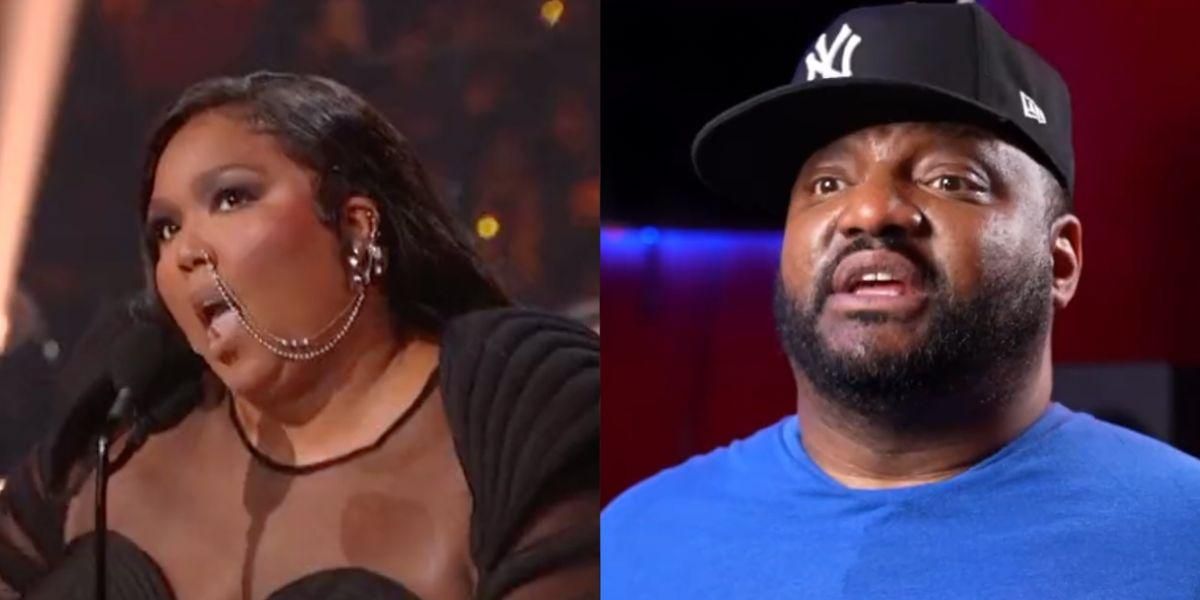 Singer Lizzo used her MTV Video Music Awards acceptance speech to clap back at fat-shaming comments from comedian Aries Spears and fans are cheering her for speaking out.
In the lead-up to the awards show, Spears—a former cast member of mid-90s show MADtv—insulted Lizzo's appearance in an interview, saying she looks like the "sh*t emoji" and a "plate of mashed potatoes," among other fat-shaming comments.
Accepting her award for the Video for Good category for her song "About Damn Time," Lizzo subtly dragged Spears in a speech that referenced memorable kiss-offs from Nicki Minaj and Beyoncé.
See it below.
\u201cCongratulations, @Lizzo \ud83d\udc8c\n\n"About Damn Time" by Lizzo just won Video for Good at the 2022 #VMAs!"\u201d

— Video Music Awards (@Video Music Awards)
1661741971
Lizzo began with an allusion to Nicki Minaj's drag of Miley Cyrus at the 2015 VMAs.
"I want to say thank you so much for supporting me and loving me."
"And now, to the bitches that got somethin' to say about me in the press."
She then went on to give the perfect response to Spears' comments.
"You know what? I'm not gonna say nothin'."
"They be like, 'Lizzo, why don't you clap back? Why don't you clap back?' Because, bitch, I'm winning, ho!"
Lizzo closed with a lyric from Beyoncé's 2016 masterpiece "Formation."
"Best revenge is your paper, bitch!"
It was the perfect response to the interview between Spears and hip-hop culture channel "The Art of Dialogue."
WARNING: racial slurs
\u201cAries Spears says that he can\u2019t get passed the fact that Lizzo looks like the \ud83d\udca9emoji when asked about her music.\u201d

— The Art Of Dialogue (@The Art Of Dialogue)
1661566961
Asked about Lizzo's music, Spears launched into a monologue about Lizzo's appearance.
"I can't get past the fact that she looks like the sh*t emoji."
"She's got a very pretty face, but she keeps showing her body off like, come on, man. Come on, yo."
"I'm sorry. Listen, I ain't the most in-shape [n-word] in the world but I still, when you funny and you got swagger and confidence and you decent looking—I think I'm at least handsome—you get pu**y."
"But a woman that's built like a plate of mashed potatoes is in trouble."
Spears then called all women hypocritical for supporting each other but being unwilling to criticize each other's "health choices."
Or as he put it:
"Fu*k diabetes, fu*k heart problems, fu*k heart disease, cholesterol."
"Y'all claim womanhood and about sisterhood and support for your sister, you know … but y'all won't be fu*king real and go, 'Sister, put the eclair down. This ain't it. It's treadmill time'."
On Twitter, people applauded Lizzo for treating Spears with the respect and attention he deserves.
\u201c@vmas @lizzo Babe just be making music, chilling, minding her business getting money\ud83e\udd11. Congrats!\u201d

— Video Music Awards (@Video Music Awards)
1661741971
\u201cHow can you not love Lizzo? \n\nLizzo gave the perfect reason for why she doesn\u2019t clapback at haters like Aries Spears at the #Vmas : \u201cbecause she\u2019s winning, ho!\u201d\u201d

— KenBarbie\u2122 (@KenBarbie\u2122)
1661738570
\u201cLizzo is having fun, creating music and making money. That's her clap back. Haters and misogynoirists can stay mad. #Lizzo #VMAs\u201d

— Jenee Darden (@Jenee Darden)
1661745411
\u201c@vmas @lizzo Lizzo said I'm winning. That's the clap back b!?c#. Get your life. Congrats \ud83d\udc4f \ud83c\udf89\u201d

— Video Music Awards (@Video Music Awards)
1661741971
Meanwhile, Spears' comments went over like a lead balloon.
\u201cI know Aries Spears isn\u2019t opening his mouth to talk about Lizzo\u2019s looks. That would be way too bold.\u201d

— roxane gay (@roxane gay)
1661616184
\u201cAries Spears is a fragile child who is throwing a tantrum because Lizzo is living in her authentic truth and his ugly rant is a failed disguise for the hurt he feels for the lack of support in his career as a fat Black entertainer. THIS is what you call projectionism. Really sad.\u201d

— Tenille. (@Tenille.)
1661614479
\u201cThe way the world hates fat women is astounding. \n\nFat women are literally just living their lives and someone will publicly claim disgust.\n\nAries Spears fat himself yet has the balls to act like he's disgusted by a fat woman simply because she\u2019s fat.\n\nLizzo bothers no one..\u201d

— Former Kleva Black\ud83c\uddff\ud83c\udde6 \ud83c\uddff\ud83c\udde6 (@Former Kleva Black\ud83c\uddff\ud83c\udde6 \ud83c\uddff\ud83c\udde6)
1661670778
\u201cLizzo at the VMAs receiving awards and performing while Aries Spears putting Yankees hats on sideways laying butt booty naked on motel 6 sheets in Iowa and can\u2019t sell out a cafeteria\ud83d\ude2d\ud83d\ude2d\ud83d\ude2d I gotta laugh I\u2019m sorry\u201d

— #StopSampleSnitching \ud83c\udd7f\ufe0fablo, The Don\u2728 (@#StopSampleSnitching \ud83c\udd7f\ufe0fablo, The Don\u2728)
1661741666
And his response to the backlash, in which he called women illogical and overly emotional for criticizing his comments only made it worse.
\u201cFunny that he\u2019s angry about people calling him fat and ugly when he literally used Lizzo\u2019s size and skin complexion against her. \n\nEven funnier that Aries Spears truly looks like he smells like yesterday\u2019s garbage.\u201d

— Preston Mitchum, he/him (@Preston Mitchum, he/him)
1661733876
\u201cPer Aries\u2019 request, not subjective:\n\n-The hyperpigmentation by his eyes & neck indicates he\u2019s not getting proper diabetes treatment.\n-Lizzo has exemplary breath control & can dance while playing a flute. Aries is winded laying down holding a phone.\n-He should call a doctor.\u201d

— vintage versaucey (@vintage versaucey)
1661657357
\u201c@nojumper What's insane is that in the original clip he was asked about her music and he made SUBJECTIVE comments about her appearance and what he deems as \u201cattractive\u201d when women decided to do the same towards him we deal with emotion and anger? Make it make sense?\u201d

— No Jumper (@No Jumper)
1661644214
For someone who so readily insulted Lizzo, he sure seemed upset about being treated the same way.
This content was originally published here.