A video mocking Republican claims to be "tough on crime", and branding Donald Trump a "criminal" who is ready "for his orange jumpsuit", has gone viral on social media.
The one-minute clip was produced by The Lincoln Project, a group formed by anti-Trump current or former Republicans which specializes in targeting the former president with viral videos and memes.
More than 460,000 people watched the video on Twitter alone, which was posted with the message: "The Republican Party cannot be the tough-on-crime party they claim to be when their leader is the biggest criminal in America."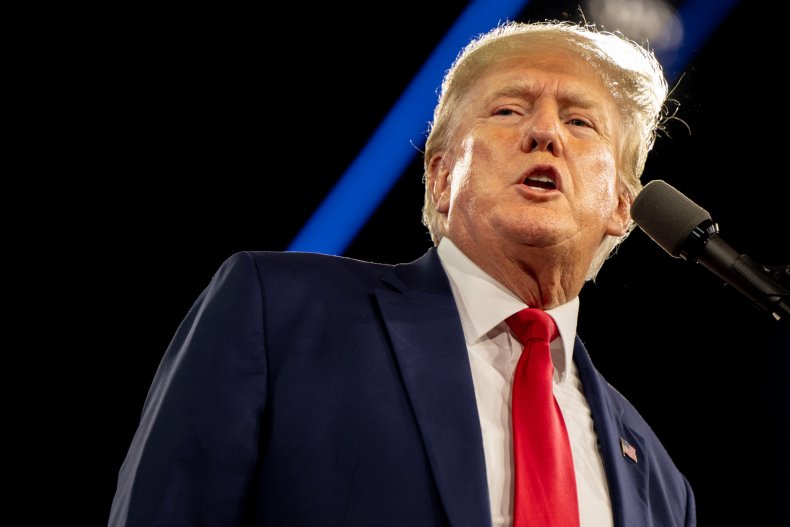 The video was released a little over two months before November's crunch mid-term elections. The Republicans had been hoping to take control of both the House and Senate, but Democrats' mood has shifted and they are growing more confident about their prospects.
The video features footage from news events, including an address by President Joe Biden and the January 6, 2021 attack on Congress, with a voiceover playing on top.
It says: "President Biden is breaking the gridlock in Washington. Inflation has been coming down and gas prices are plummeting. So after months of attacking Biden on these very issues, what can Republicans attack now?
"Simple, they go back to the classics. Like crime, racist dog whistles disguised as police support and designed to stoke fear, a desperate attempt to distract. They don't know what to do when there's real leadership in Washington, but this old classic won't work."
The video goes on to explicitly attack the Republican claim to a party of law and order, following Trump's attempt to overturn the 2020 presidential election and the recovery of classified documents from his Mar-a-Lago home.
It concludes: "Because it's hard to be tough on crime when your party leader is a criminal. A man who stole classified documents and lied to the FBI, and this was after he participated in an attempted coup.
"So go ahead Republicans, get tough on crime. If you really want to prove you mean it, there's one criminal who's more than ready for his orange jumpsuit."
The Republican Party cannot be the tough-on-crime party they claim to be when their leader is the biggest criminal in America. pic.twitter.com/tpkSYkMSvD
— The Lincoln Project (@ProjectLincoln)
On August 8 the FBI raided Trump's Mar-a-Lago private members club as part of an investigation into a number of possible offenses, including breaches of the Espionage Act.
They recovered 20 boxes of documents, some marked "Top Secret" or "Secret", which should have been handed over to the National Archives.
Trump had claimed he declassified the documents before leaving the White House, though there was no mention of this in his legal team's most recent court filings.
The former president has not been charged with any crime relating to his possession of confidential documents. However if charged and convicted under the Espionage Act he could face up to 10 years in jail.
In Georgia a grand jury is investigating whether Trump acted illegally in his efforts to overturn the state's 2020 presidential election result.
The inquiry will cover a January 2021 phone call between Trump and Georgia Secretary of State Brad Raffensperger, in which the then president asked Raffensperger if he could "find" 11,780 votes to swing the state away from Biden.
Trump has denied wrongdoing, insisting his call with Raffensperger was "perfect".
Separately the New York Attorney General is conducting an investigation into allegations of tax fraud by The Trump Organization.
Earlier this month another prominent conservative, former Vice President Dick Cheney, released a viral video attacking Trump.
He said no individual has ever been "a greater threat to our republic than Donald Trump", and branded the former president a "coward" for refusing to accept the 2020 presidential election outcome.
The video was released to support his daughter, Liz Cheney, ahead of her Wyoming GOP primary battle against Trump-backed candidate Harriet Hageman.
Liz Cheney, vice-chair of a House Committee investigating the January 6 storming of Congress, was soundly defeated taking just 28.9 percent of the vote.
Trump is continuing to insist the 2020 election was rigged against him, though this has been rejected in the courts and by independent election experts.
On Monday he used his Truth Social website to suggest he be "declare[d] the rightful winner", or as a "minimal solution" authorities should "declare the 2020 Election irreparably compromised and have a new Election, immediately!"
Trump has been contacted for comment.
This content was originally published here.