Visitors to Orlando International Airport (MCO) — particularly international visitors — are in for a big upgrade.
MCO's new Terminal C is set to open Sept. 20, and features 15 new internationally-capable gates and a new federal inspection station that will bring modern touches to America's theme park capital.
The bright and airy $2.8 billion, 1.2 million square foot facility is a stark contrast to the airport's existing terminal, which is about a mile to the north. No longer will travelers have to use an automated people mover to transfer from check-in (landside) past security to the gate area (airside) — and hear the city's mayor, Buddy Dyer, welcome them to the region. (The new Terminal C and the older North Terminal  are linked by a second people mover system that opened five years ago to serve the new terminal's parking garage.)
One noteworthy feature of the new terminal is that it's connected to Brightline, a privately-run high-speed rail system that will reach Orlando next year. Brightline will link Central Florida to some key cities in South Florida, including West Palm Beach, Fort Lauderdale and Miami.
Want more airline-specific news? Sign up for TPG's free biweekly Aviation newsletter.
The new terminal will initially be home to 10 airlines — nine of them international carriers, along with JetBlue. The other carriers are Aer Lingus, Caribbean Airlines, Azul, Emirates, Lufthansa, British Airways, Gol, Norse Atlantic Airways and Icelandair. The airport's existing federal inspection station facilities in the North Terminal will remain open and will serve airlines such as Virgin Atlantic, which won't be making the move to the new facility.
TPG visited the new facility on Tuesday during its media preview day. We got to see some of the new terminal's signature features, including the centerpiece public spaces on both the landside and the airside, some gate areas, the new 10-lane Transportation Security Administration checkpoint and the new baggage handling system.
An airy lobby
The new terminal is connected to the train station, parking garage and people mover by a pedestrian bridge called The Boulevard.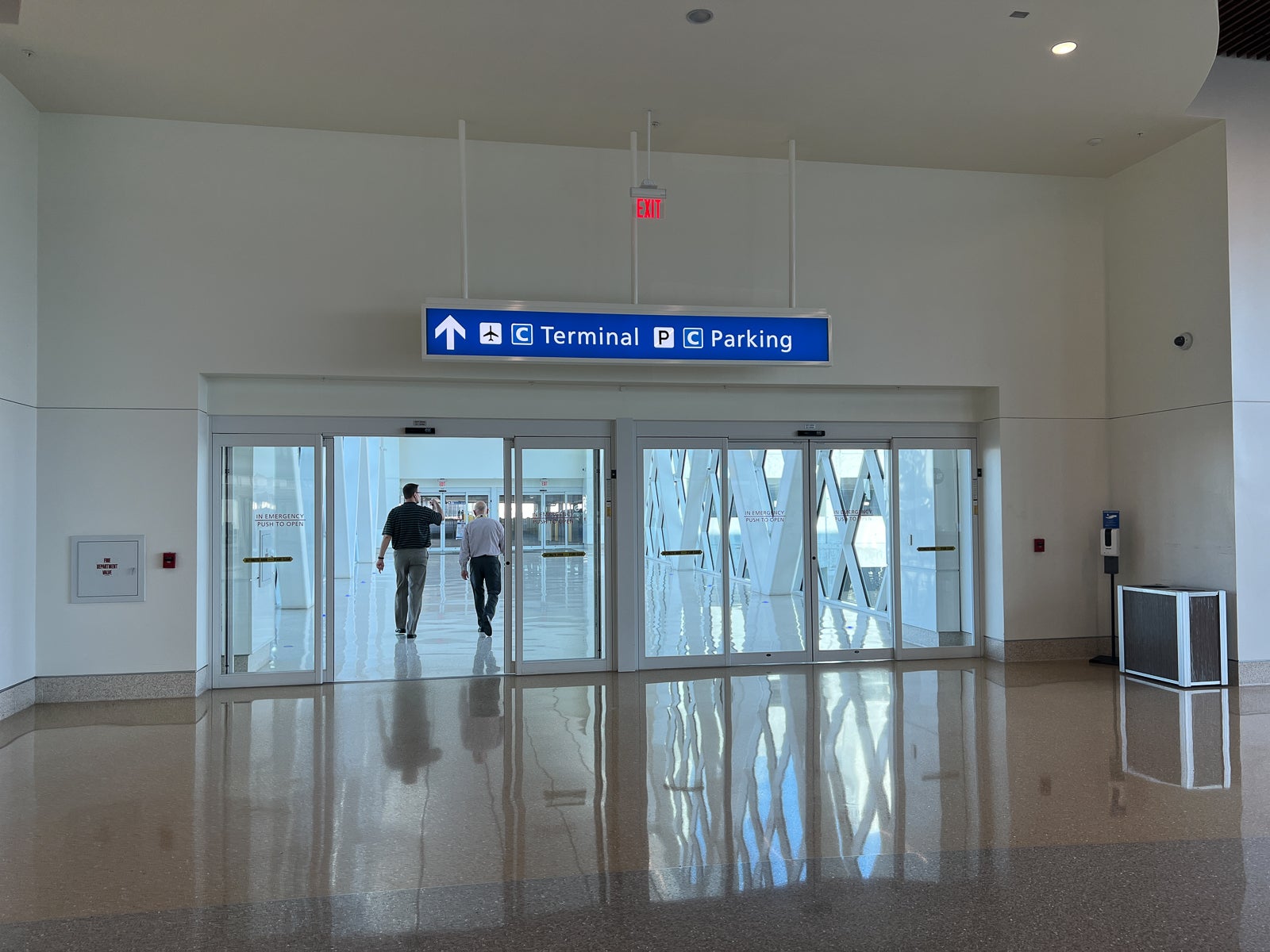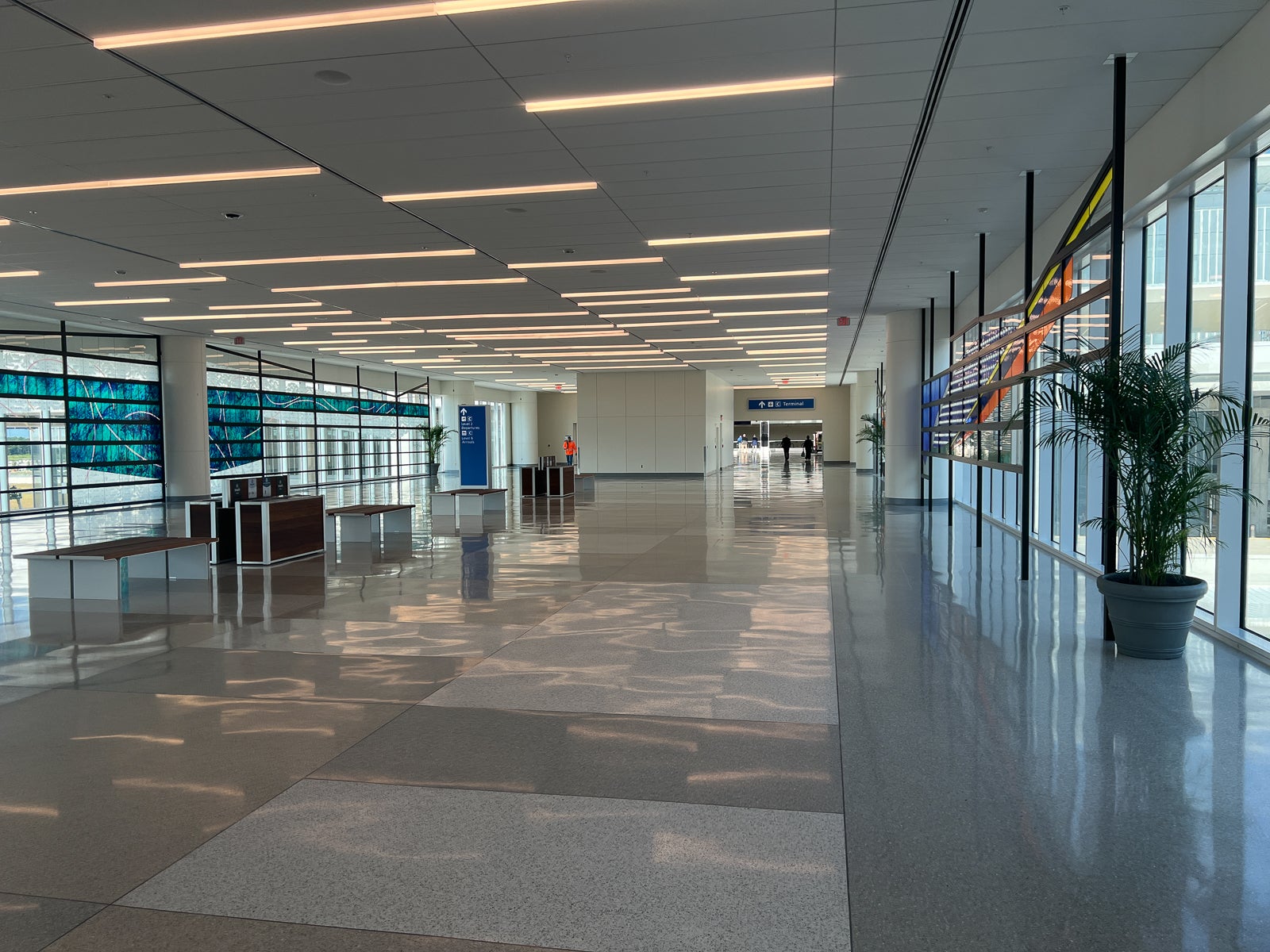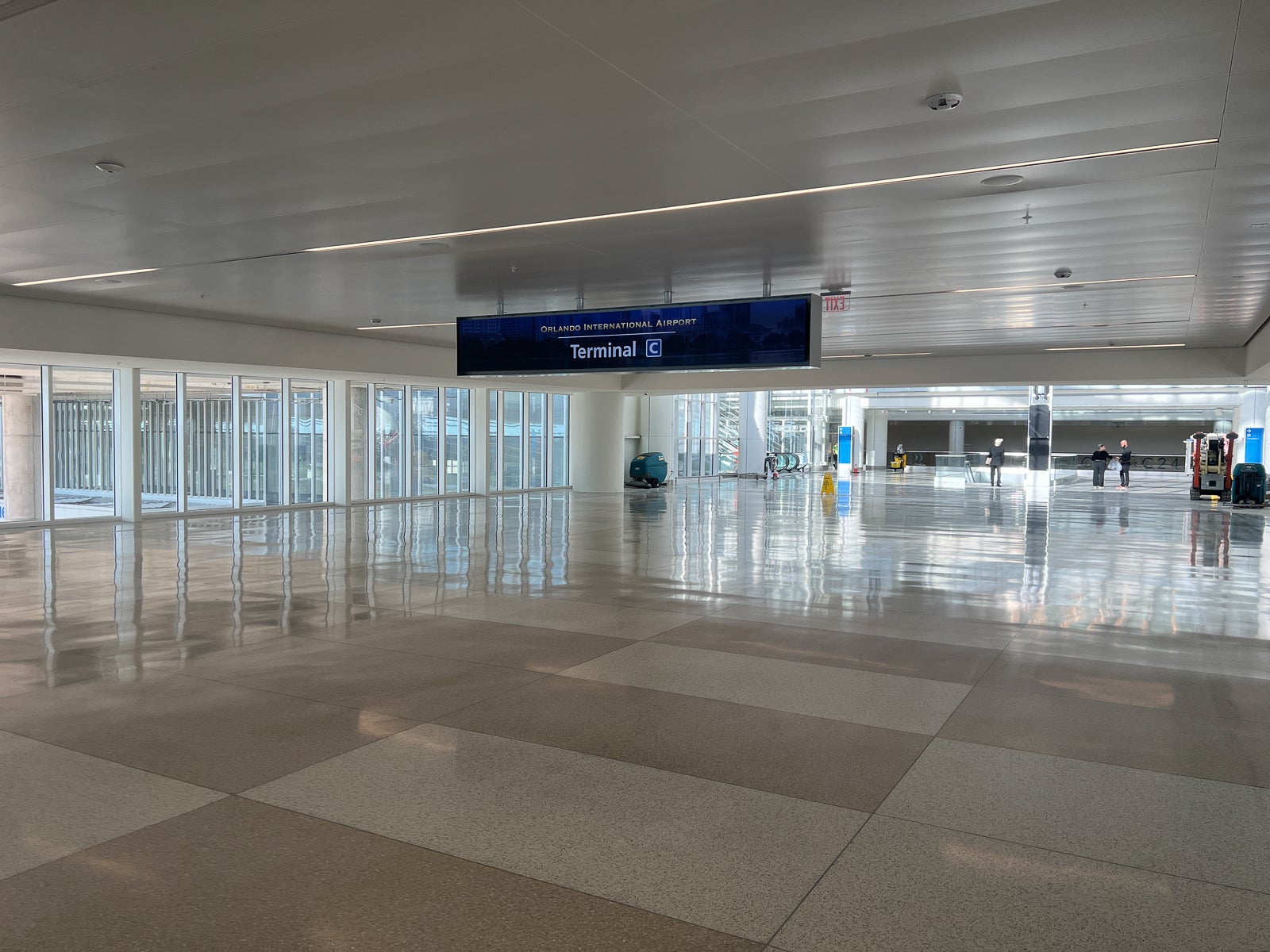 The Boulevard also contains rental car counters and the terminal's baggage recheck facility. The recheck facility focuses on airlines that operate with the terminal, but airlines could also offer a service that allows arriving international passengers the ability to check their bags for a flight that arrives in the North Terminal, which is connected to Terminal C via a service roadway on the airfield. This could particularly come in handy for passengers arriving on a British Airways flight from London who are connecting to an American Airlines flight operating from the existing North Terminal facility.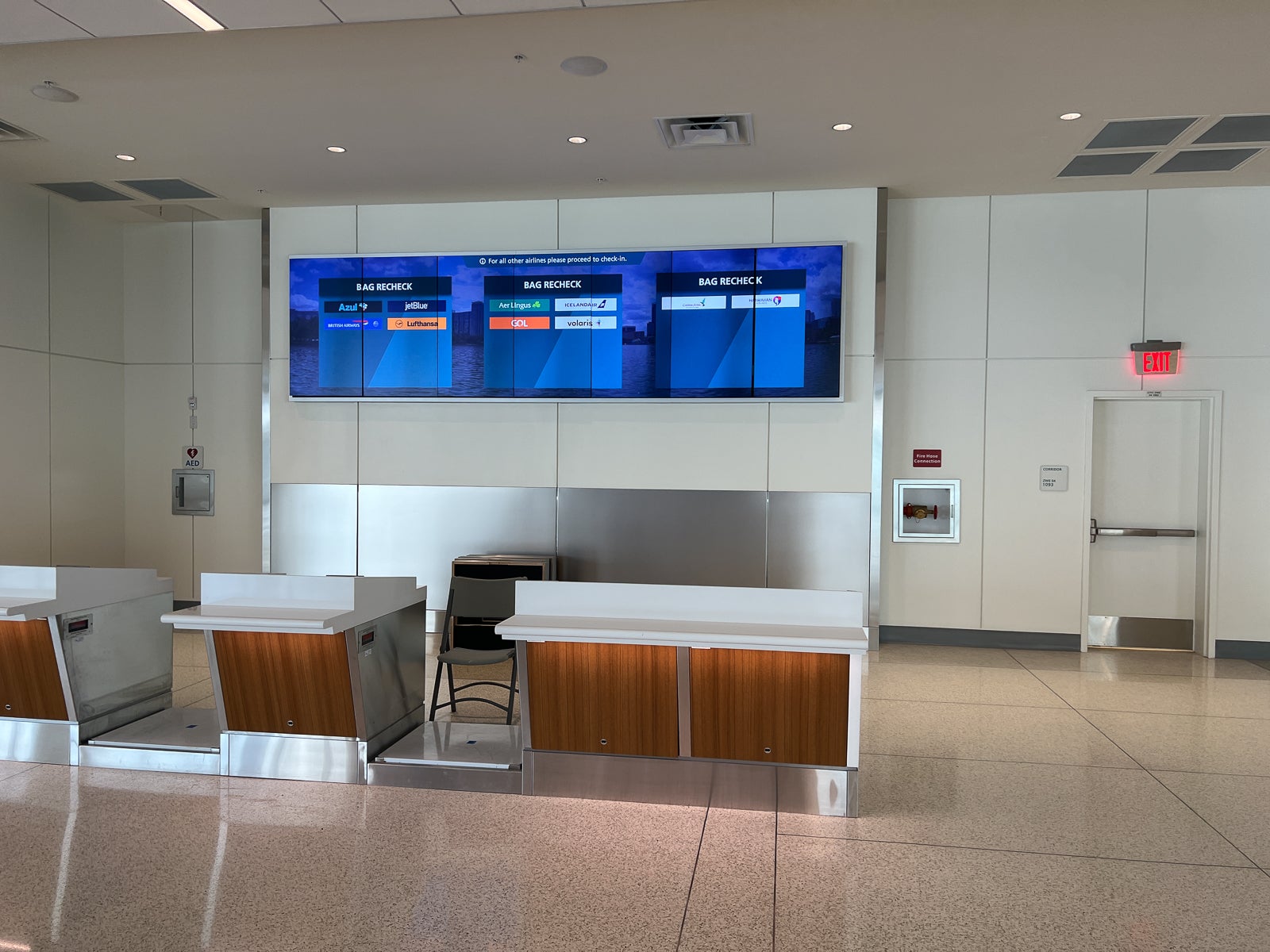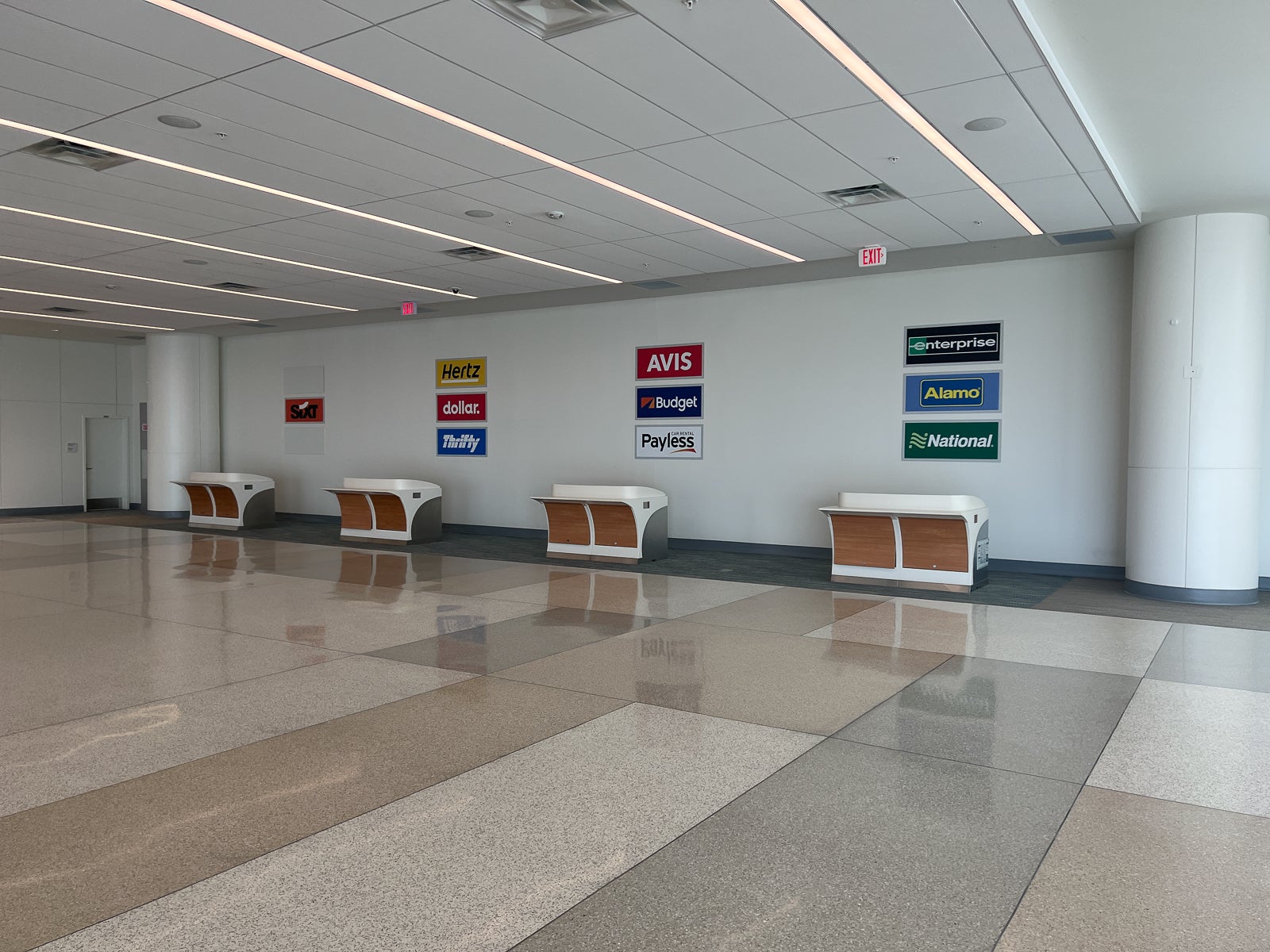 Once you enter Terminal C from The Boulevard, you arrive on the fourth floor into an area called the Town Square. That's between the arrivals level, which is actually on the sixth floor, and the departures level, on the second floor. For those arriving by car, there are separate roadways for arrivals and departures on those two floors.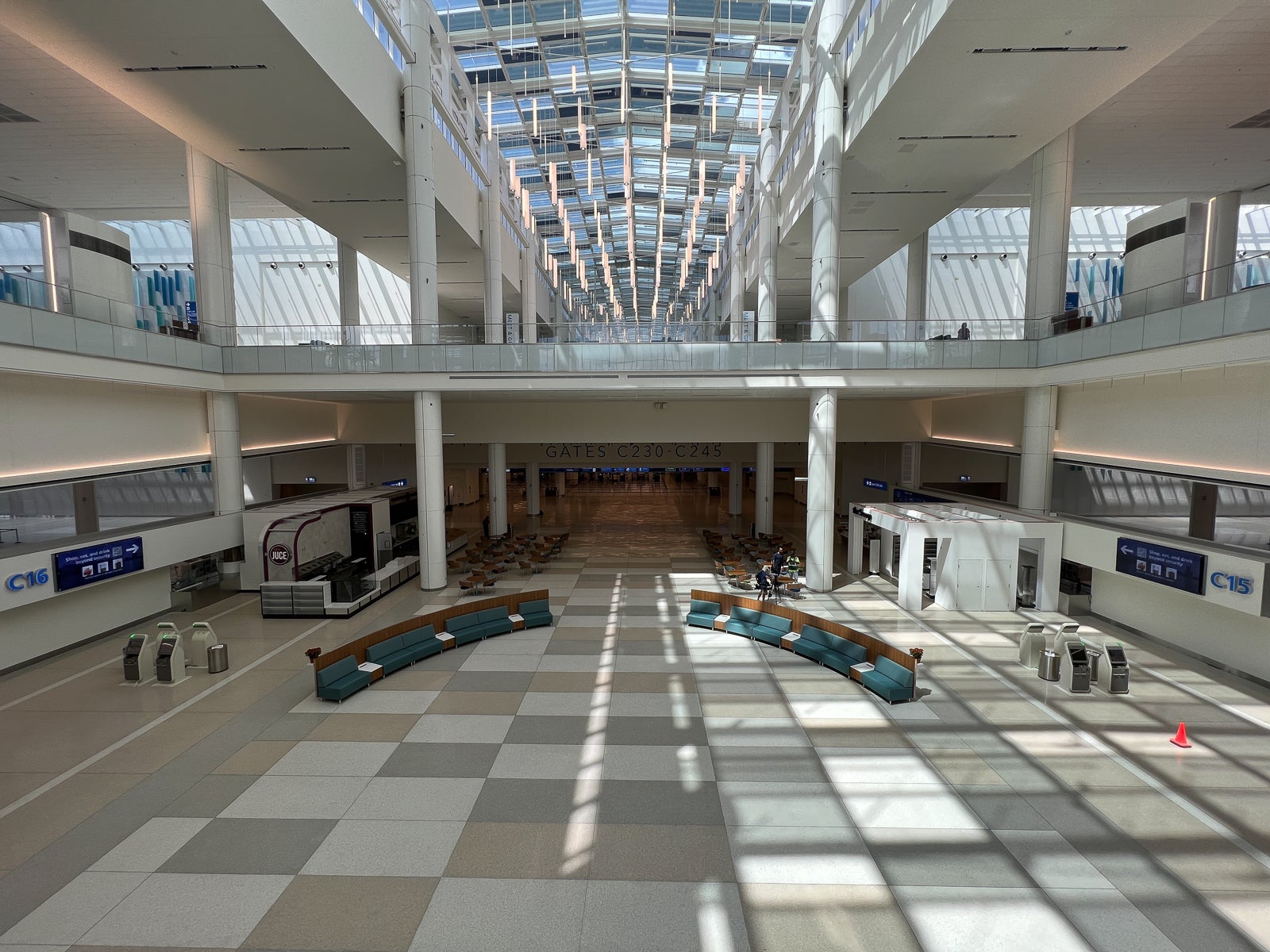 Bringing arrivals to the top floor and departures to the ground floor is the opposite of what generally happens at airports — and a deliberate choice by the project's architect, Curtis Fentress.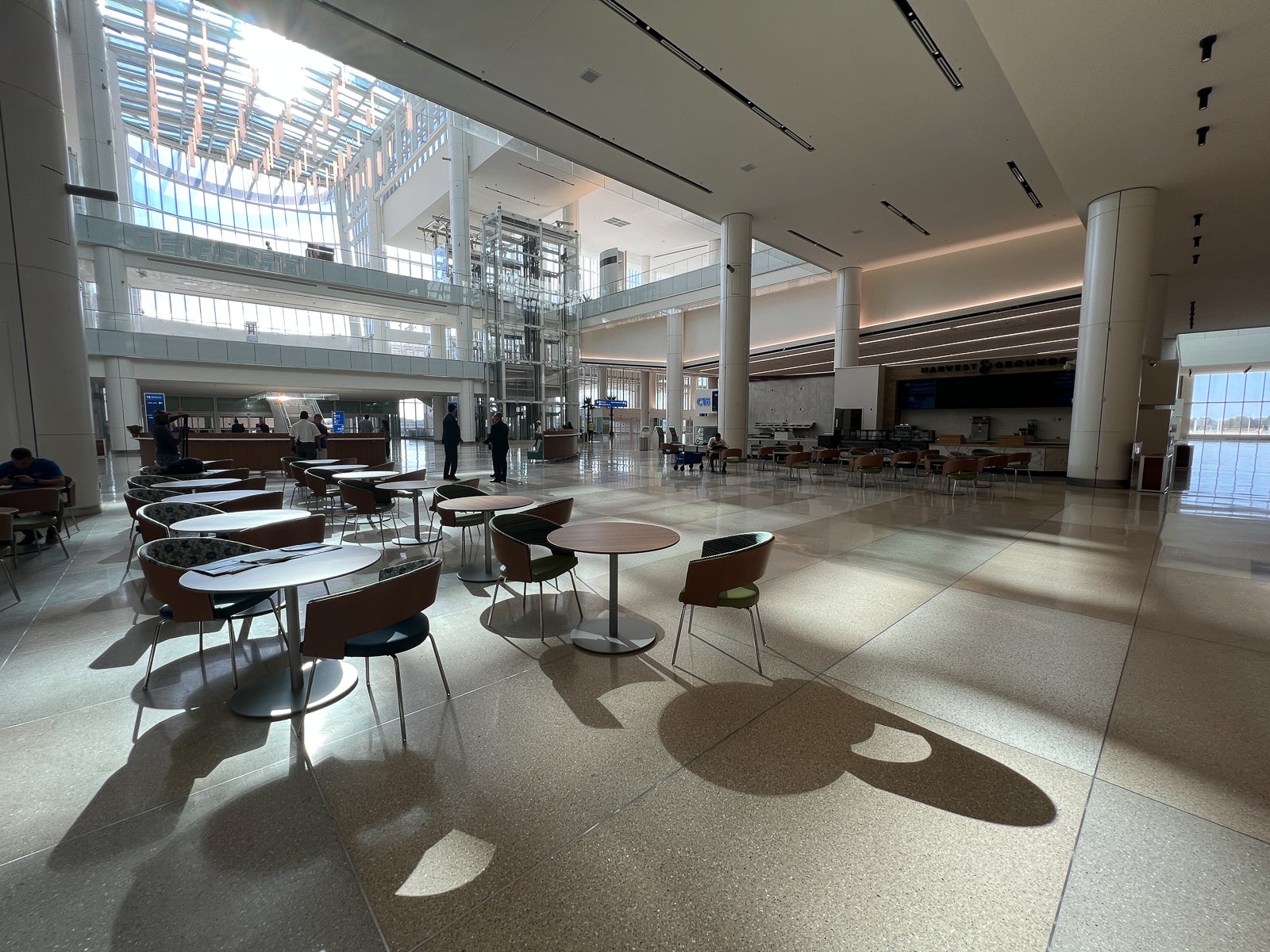 Fentress, who also designed Denver International Airport (DEN) and led the modernization of the Tom Bradley Terminal at Los Angeles International Airport (LAX) and Incheon International Airport (ICN) near Seoul, said in an interview with TPG that he wanted to bring visitors closer to the Florida sun after arriving in cooped-up planes.
"I've arrived, I can relax, I'm on vacation," is how Fentress described the arrival experience.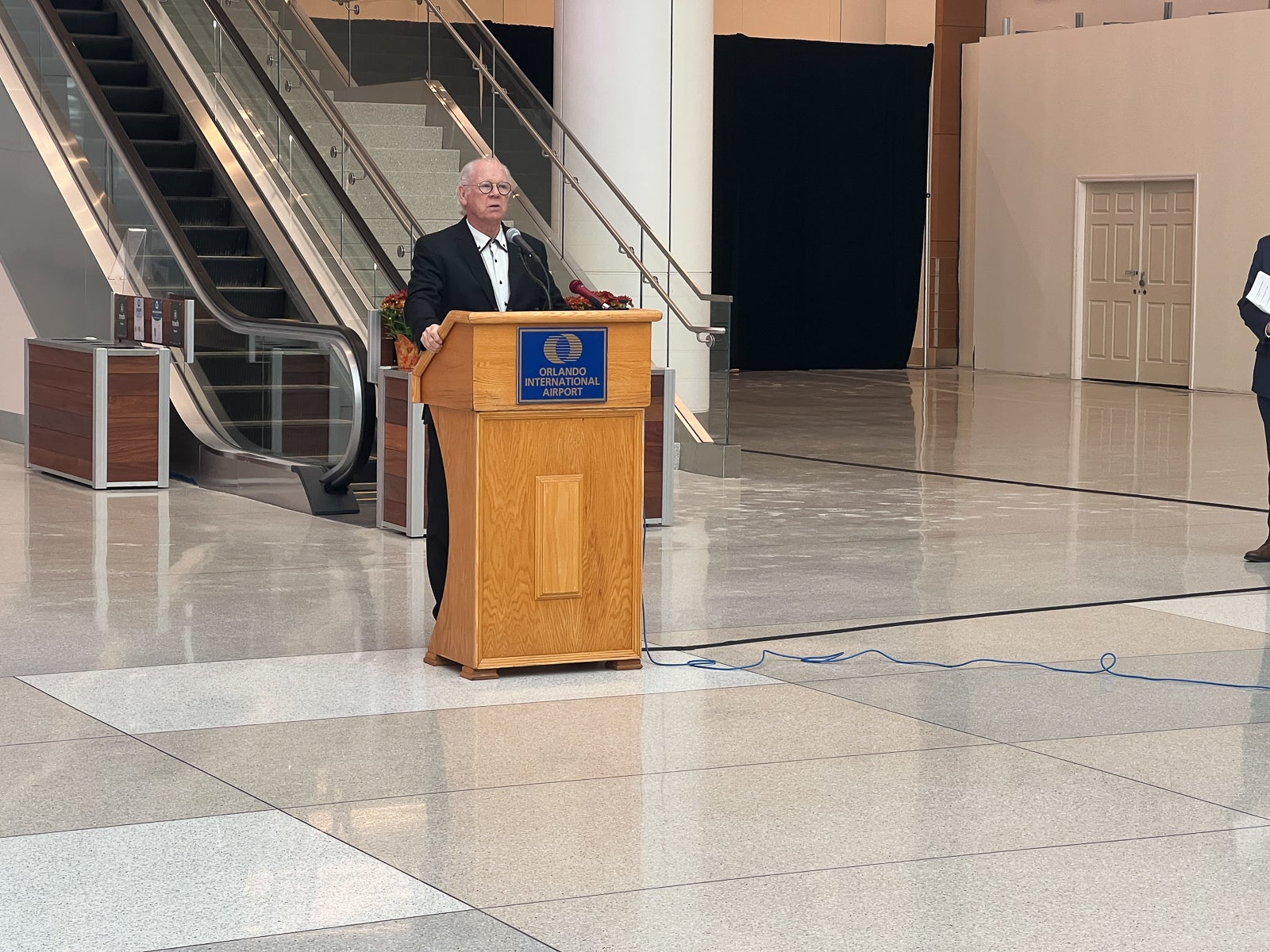 You'll find ticket counters on either side of the Town Square.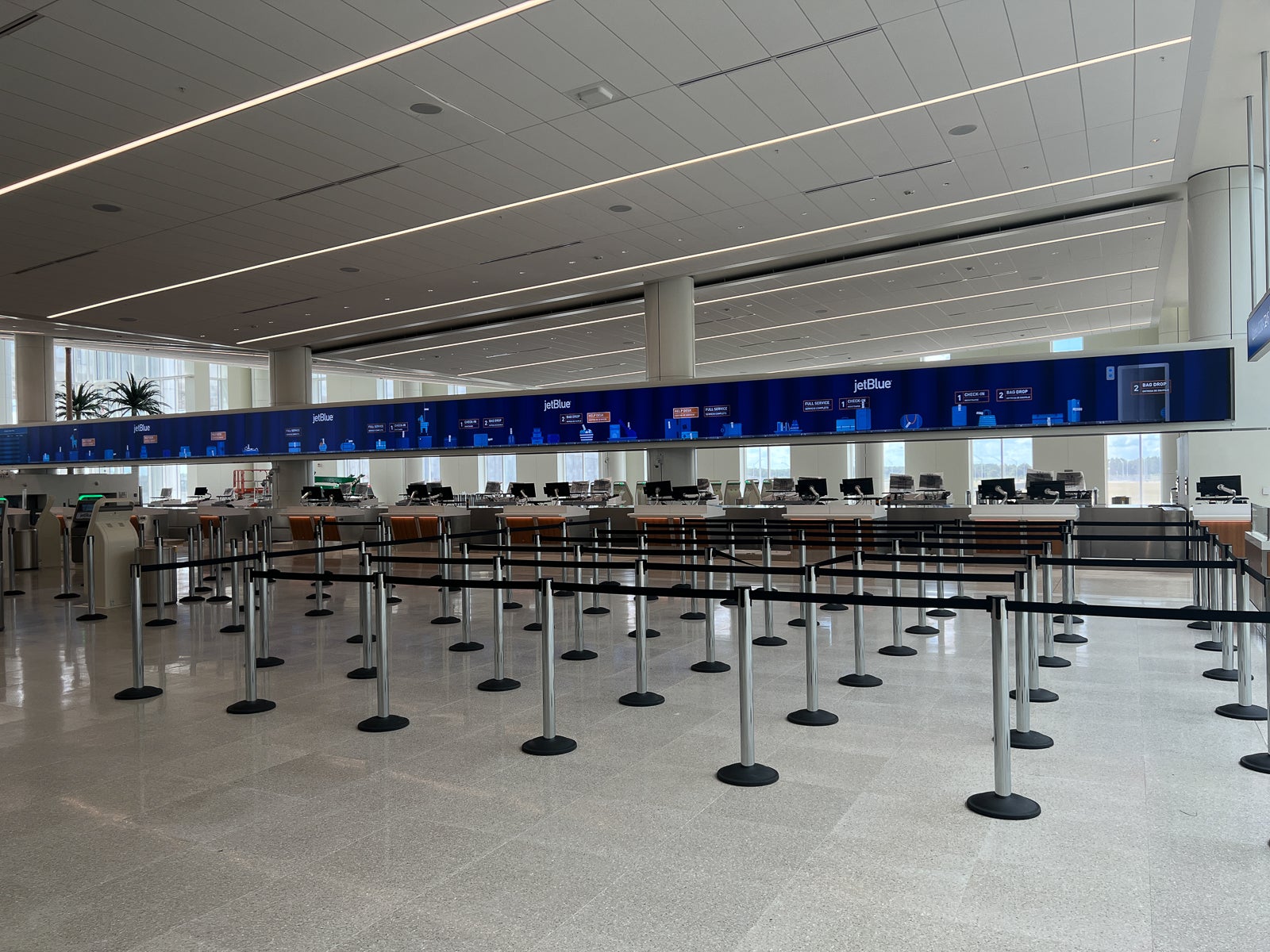 There are limited concessions available in the Town Square area — 7% of the total number of outlets — a stark contrast to the North Terminal, which opened in 1981 and features a multitude of shops and a food court before security. It was a deliberate choice made due to the post-9/11 security reality, Greater Orlando Aviation Authority CEO Kevin Thibault said.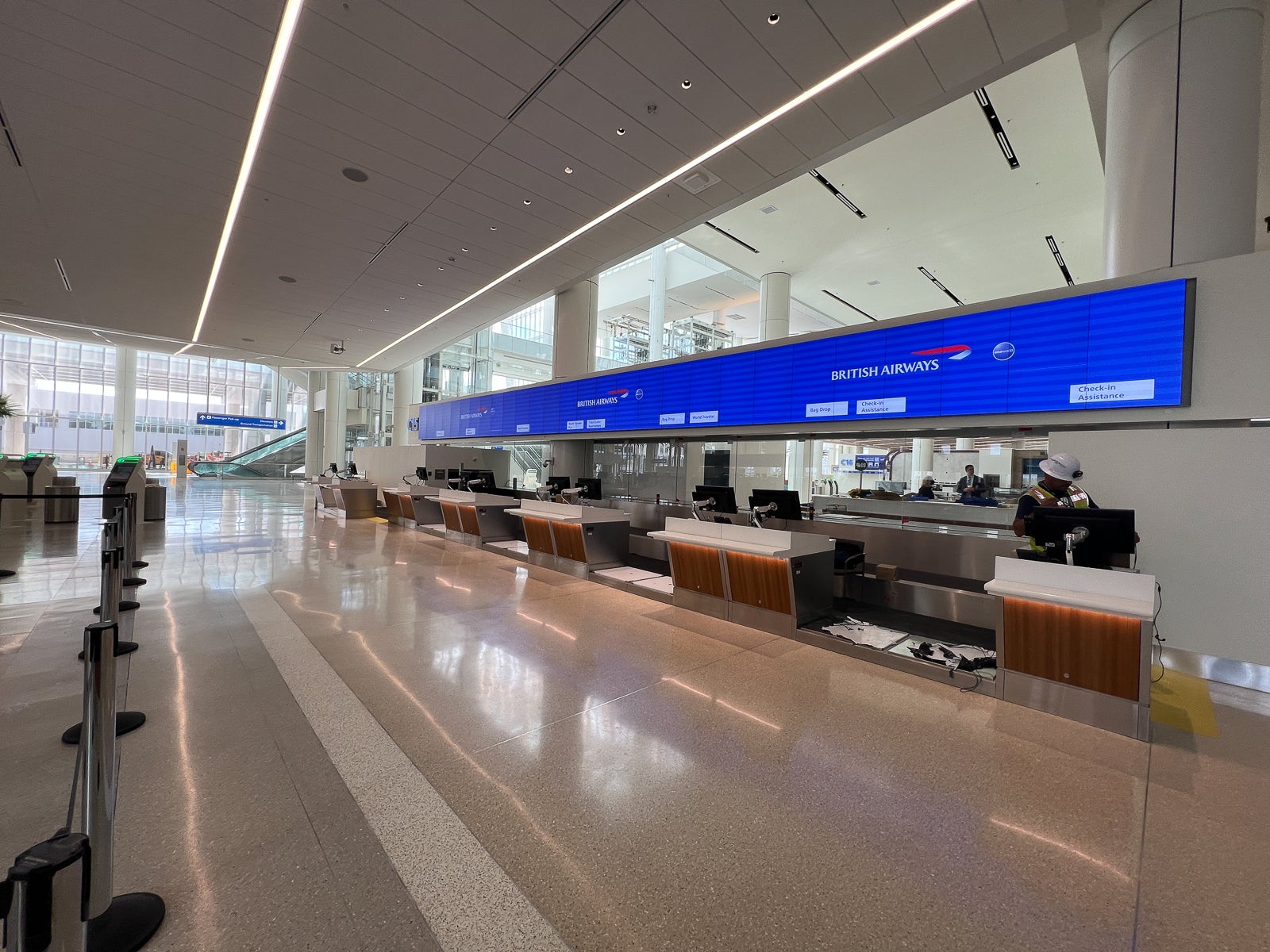 A futuristic TSA checkpoint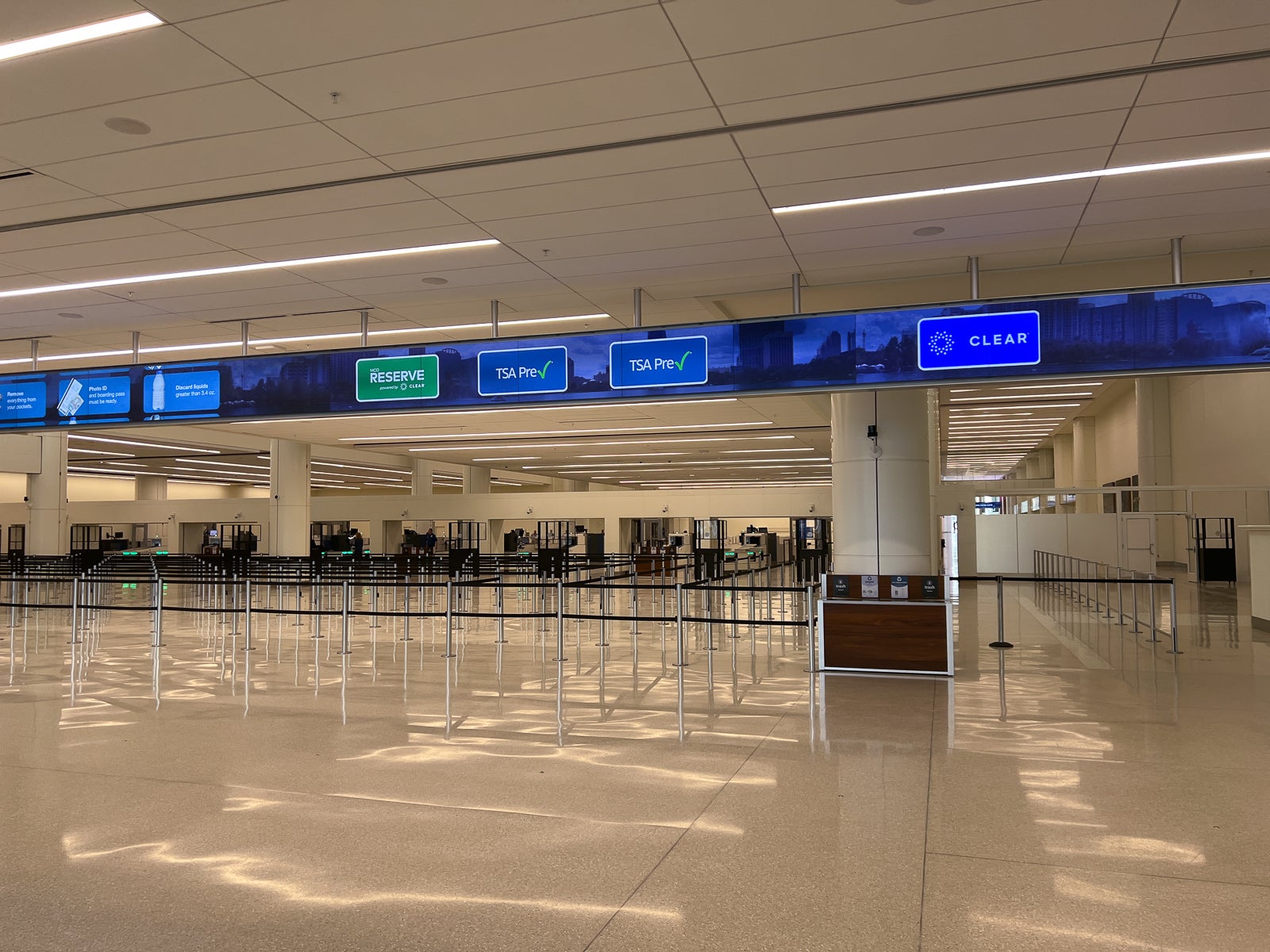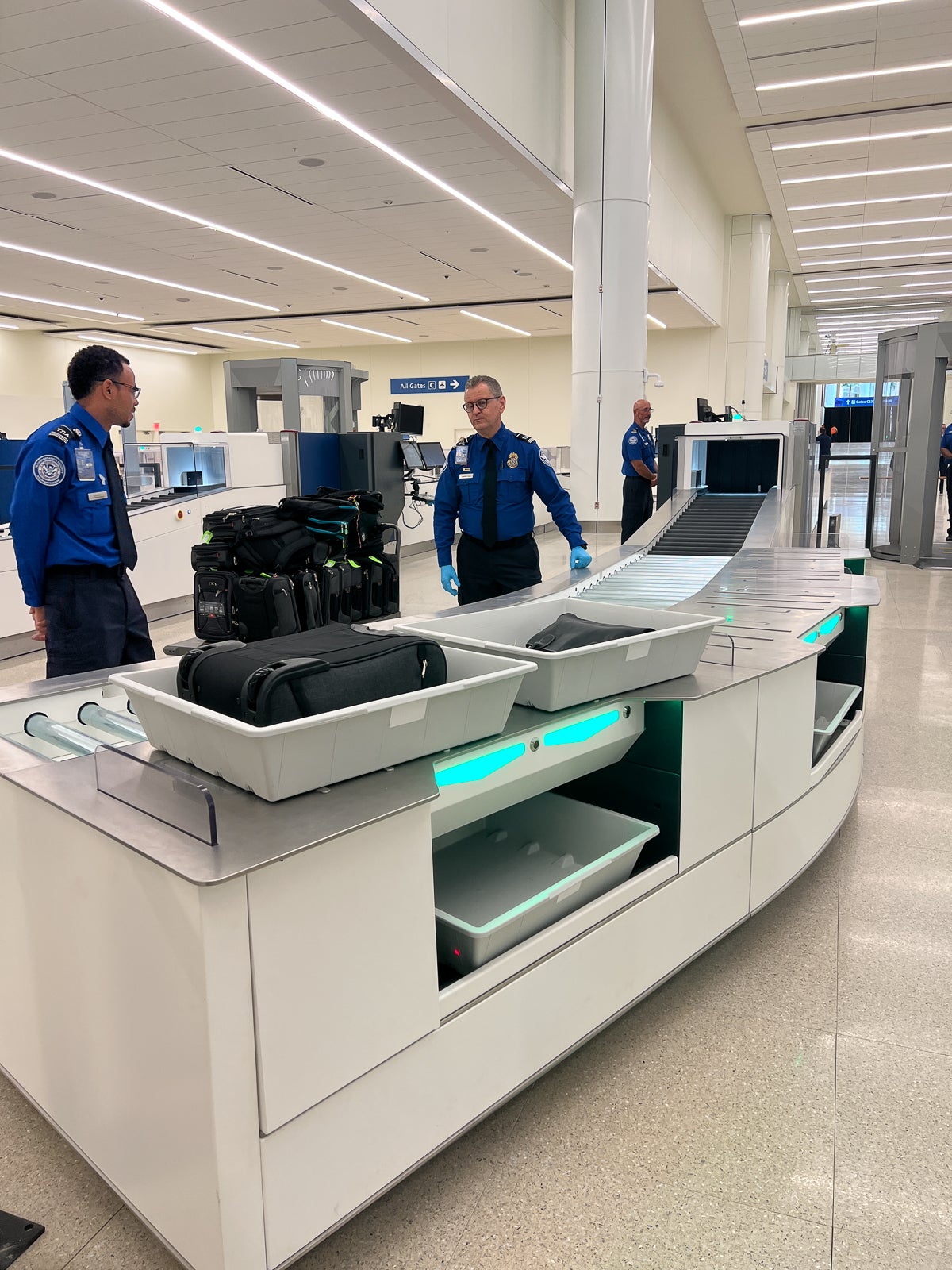 The new terminal features 10 security checkpoint lanes, including eight featuring automated screening lanes. Those automated lanes are capable of screening 180 to 250 passengers per hour, in contrast with 150 passengers per hour in the non-automated lanes, TSA spokesperson Sari Koshetz said. The new checkpoint will feature TSA PreCheck and CLEAR lanes.
The automated system relies on bins, and allows travelers to place bins with their belongings onto the belt at multiple points. The system features an automated bin return, and even has a sensor that detects whether or not a bin is empty at the end of the belt.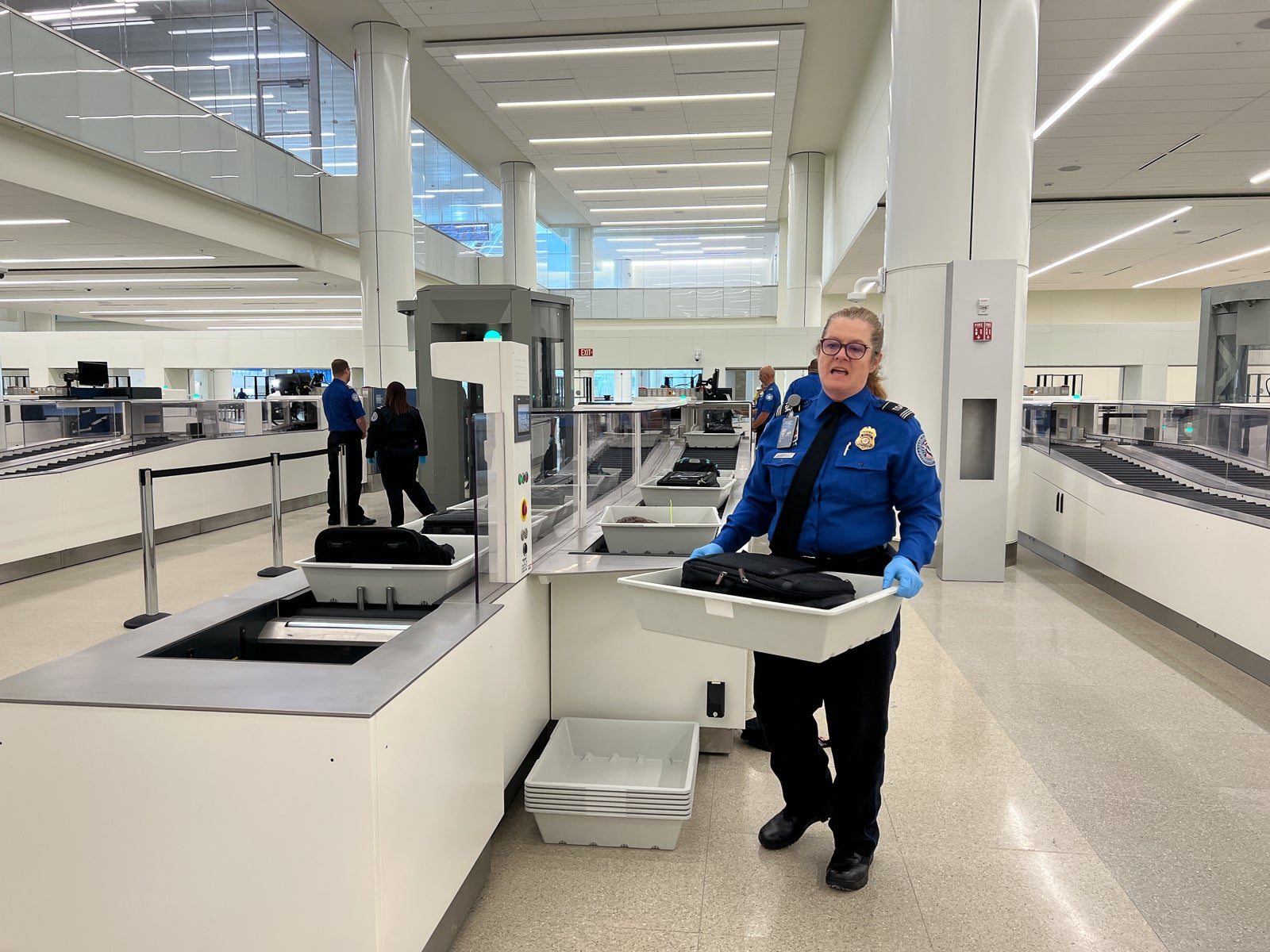 An Artful gate area
Departing the TSA checkpoint, a traveler is brought to the airside plaza, known as Palm Court. It features the bulk of the terminal's concessions, including a Starbucks, Shake Shack and a wine bar. In case you forgot Walt Disney World or Universal Orlando merchandise, those theme parks have stores there too. In total, Terminal C has 23 eateries and 11 retail establishments.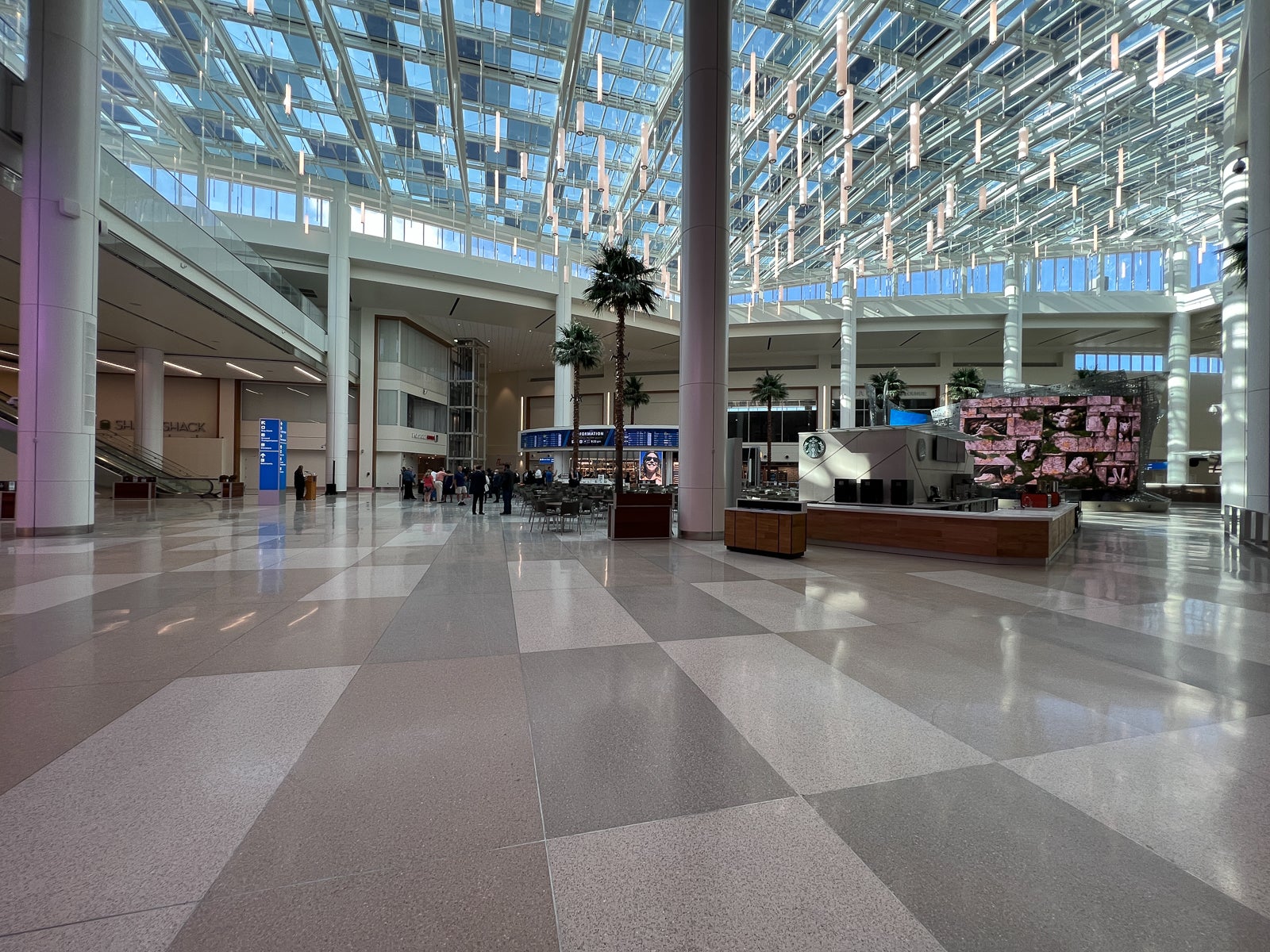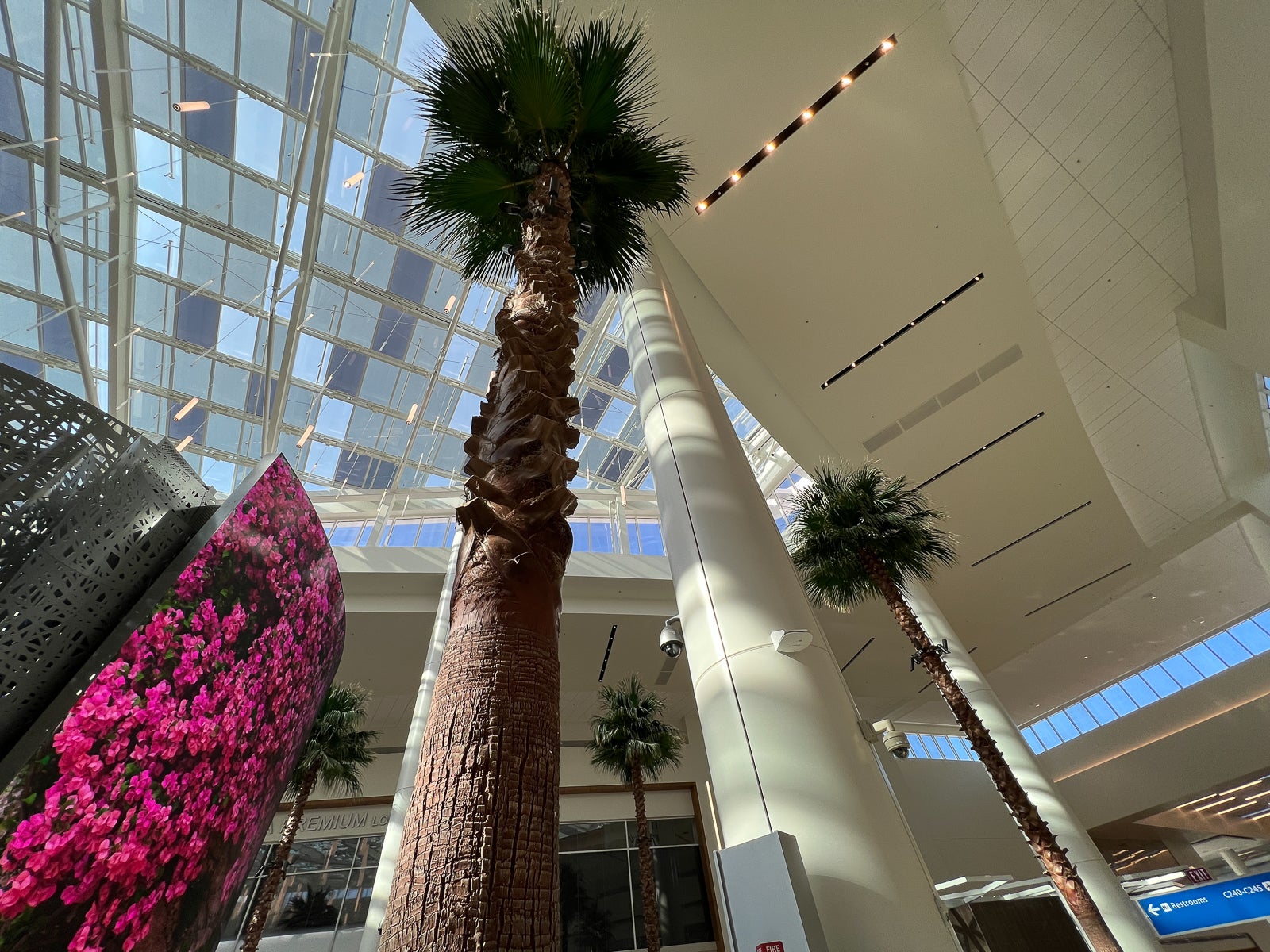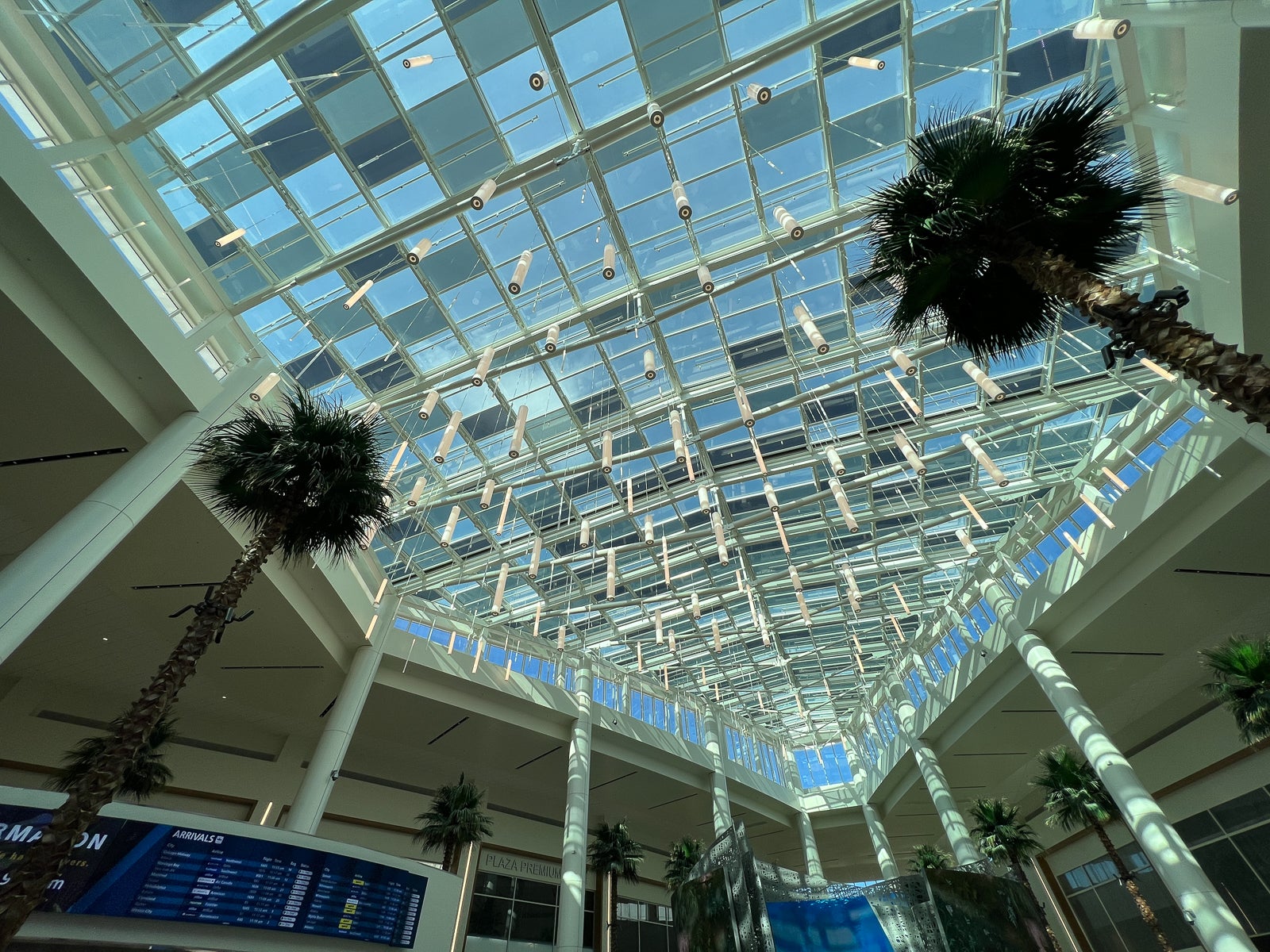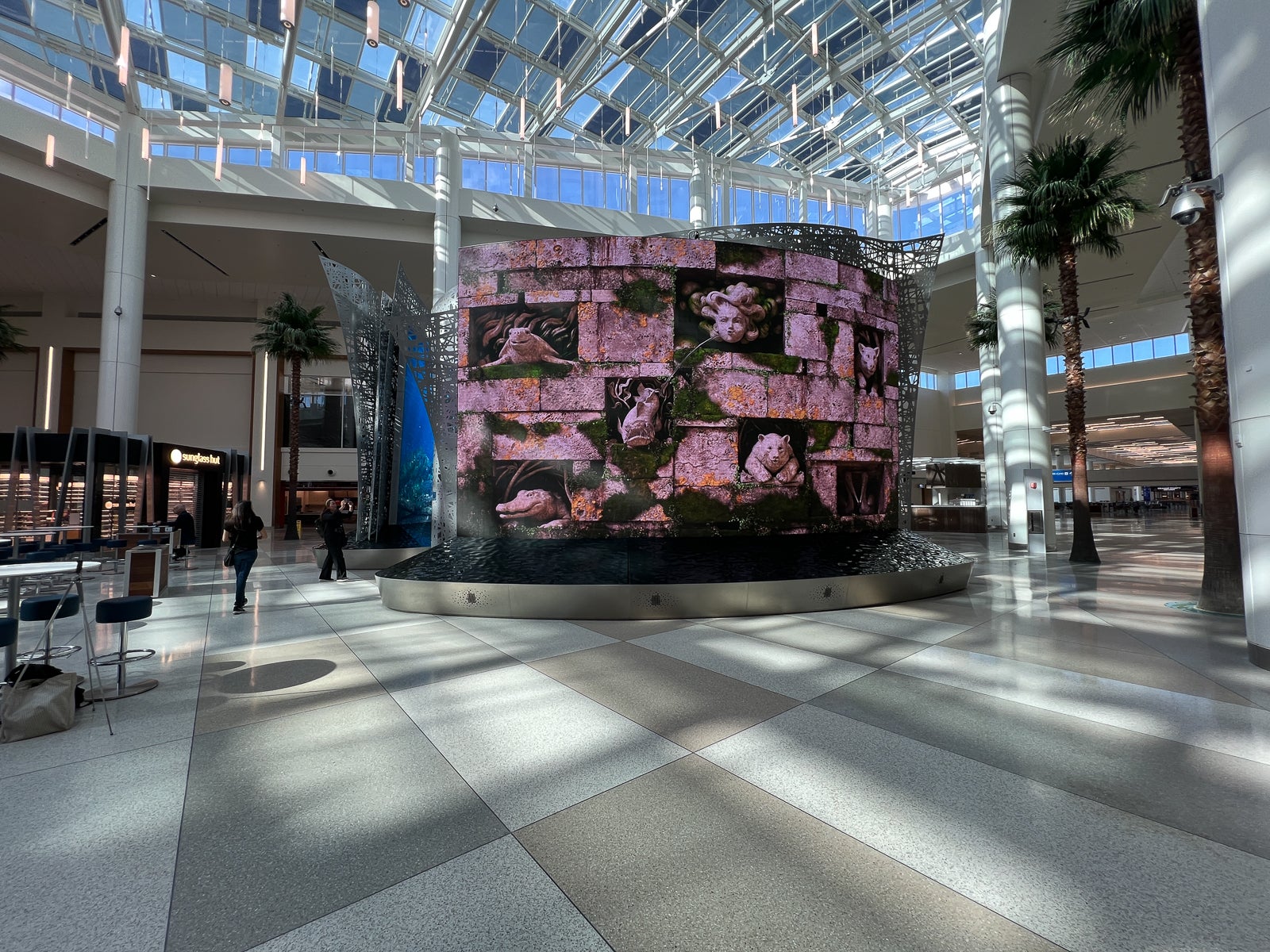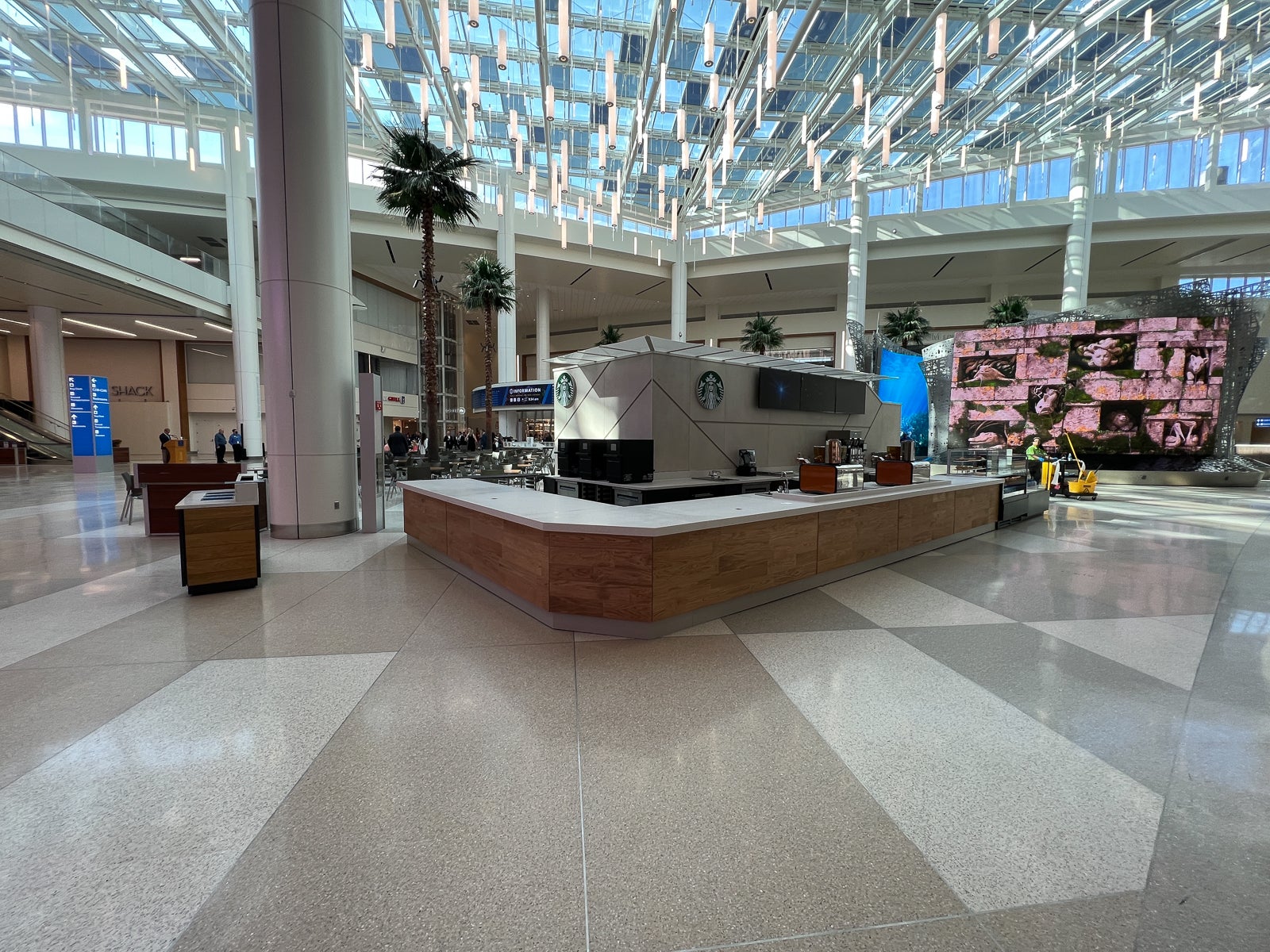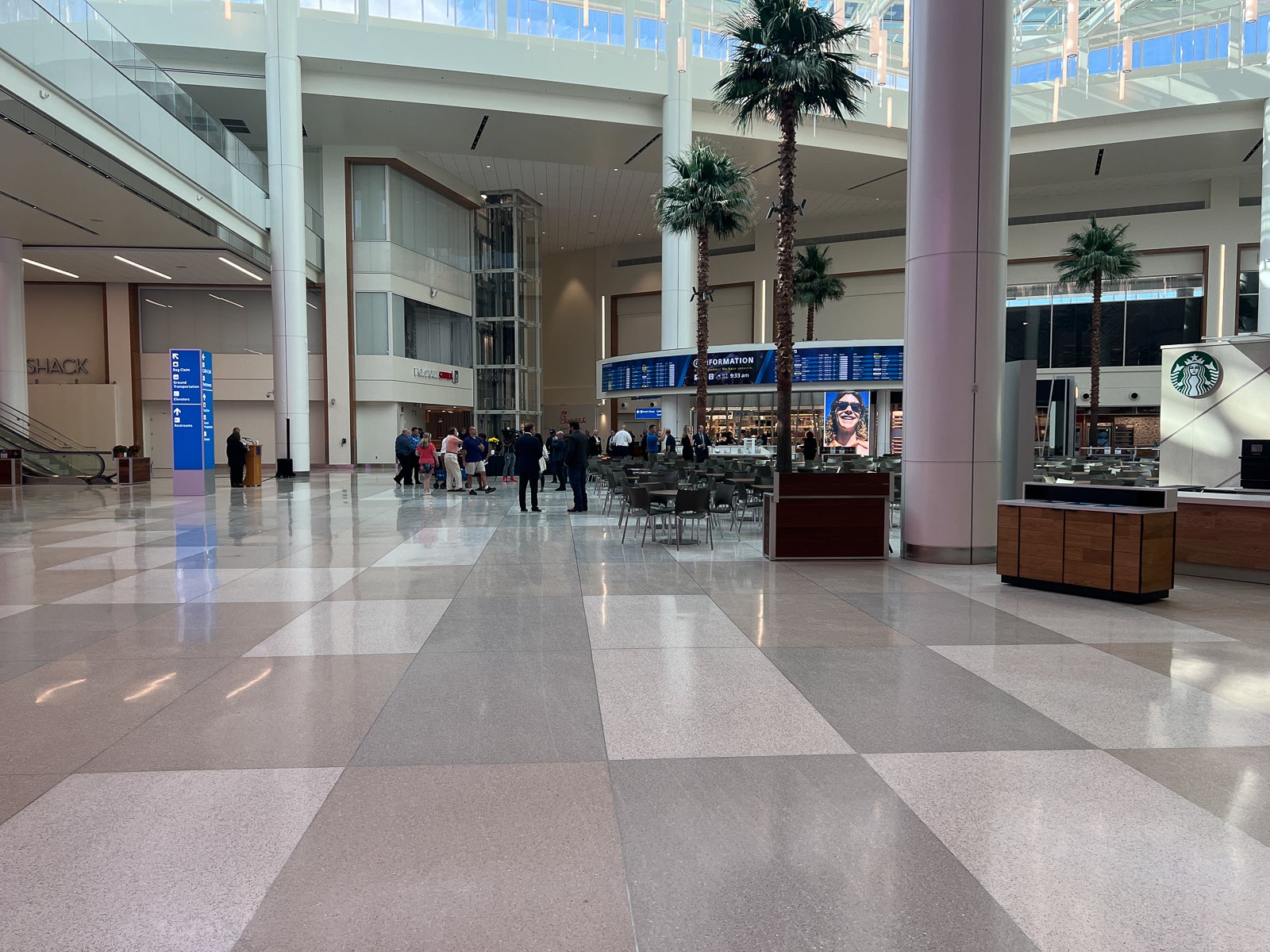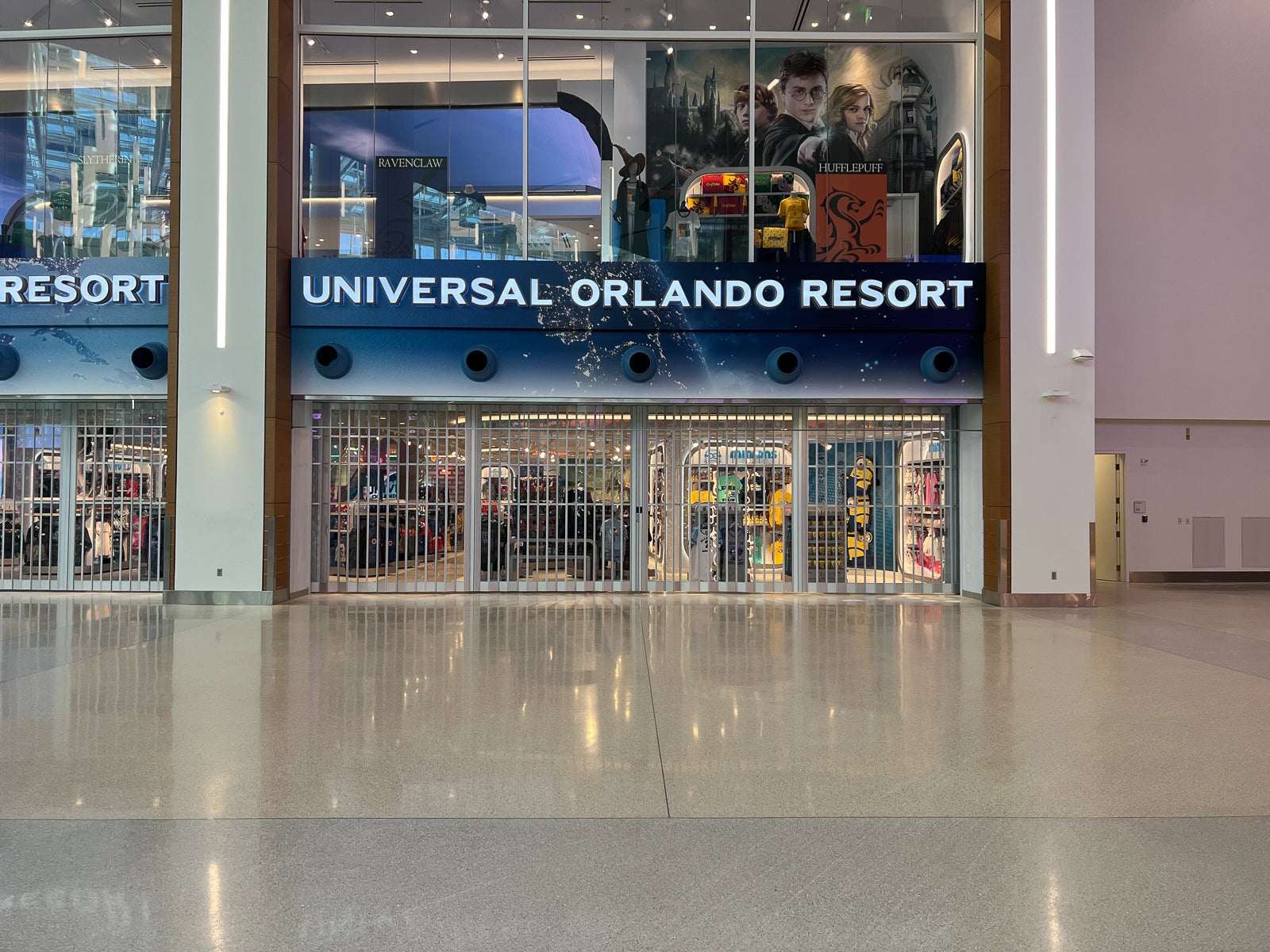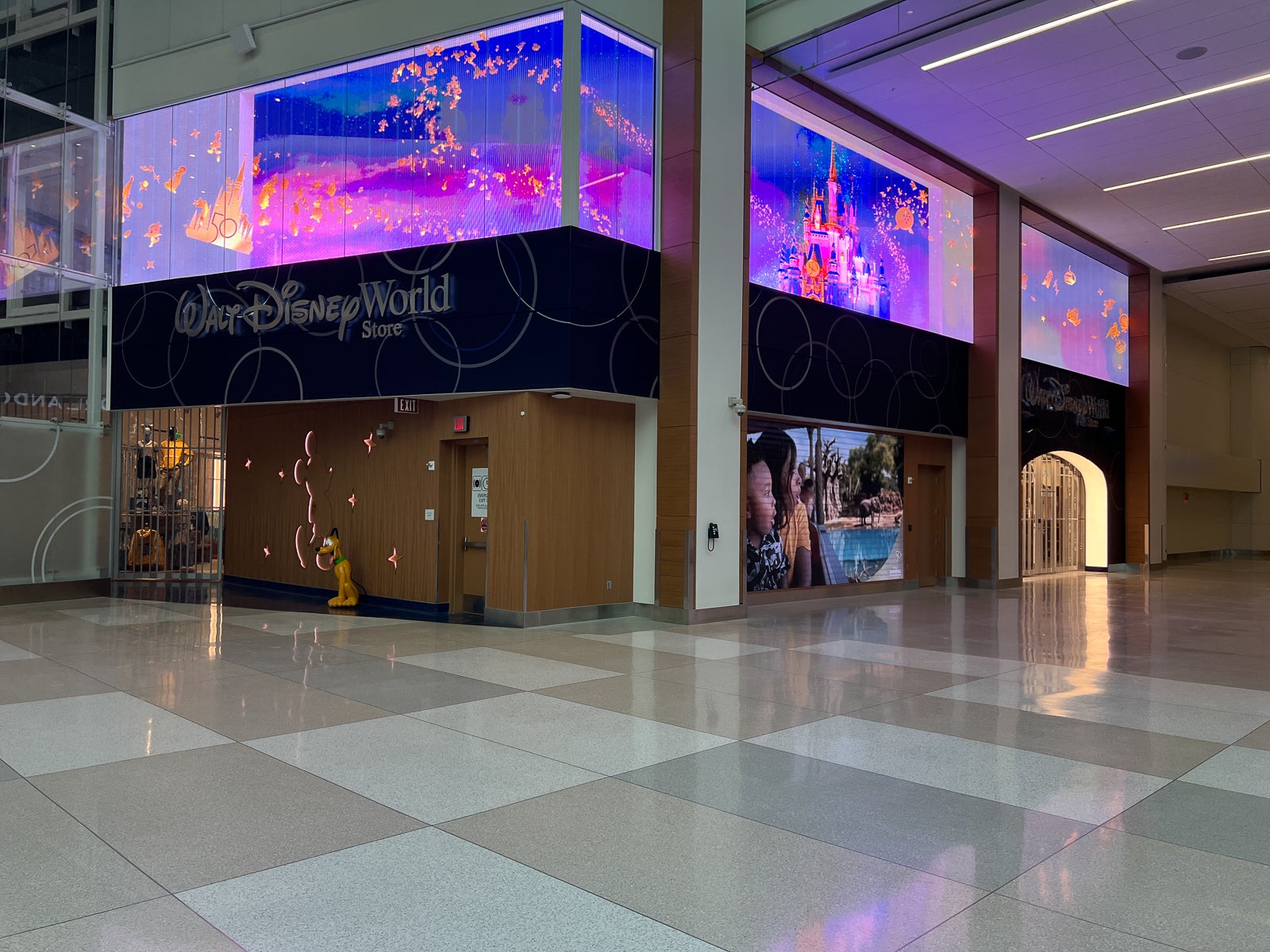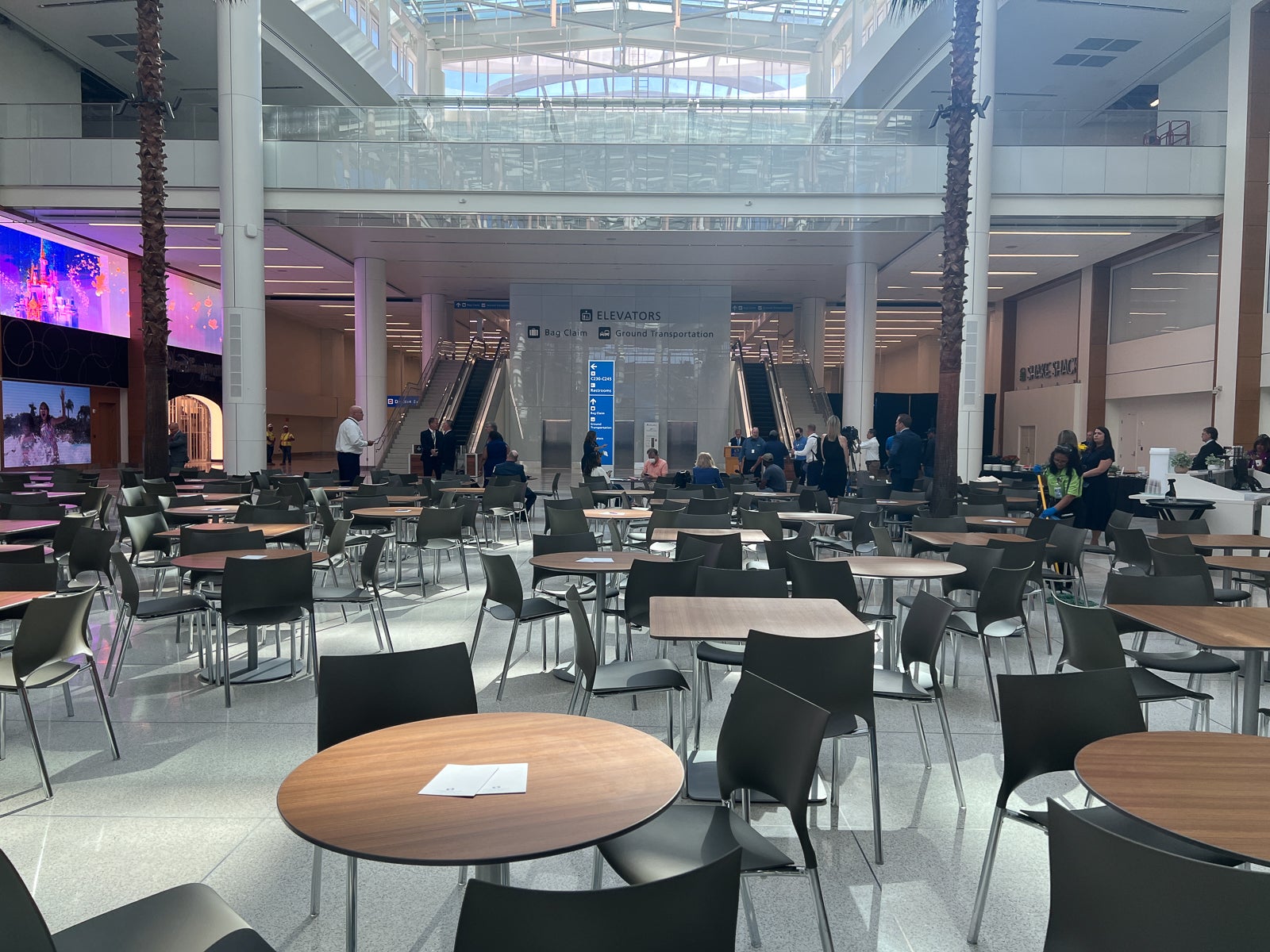 Palm Court is named for the palm trees that line the area. They're actually fake palms, though they look realistic enough to make you think otherwise,
It's the site of the terminal's single lounge, a Plaza Premium Lounge. That space was still under construction at the time of this visit, though look for a future TPG review of the space once it opens.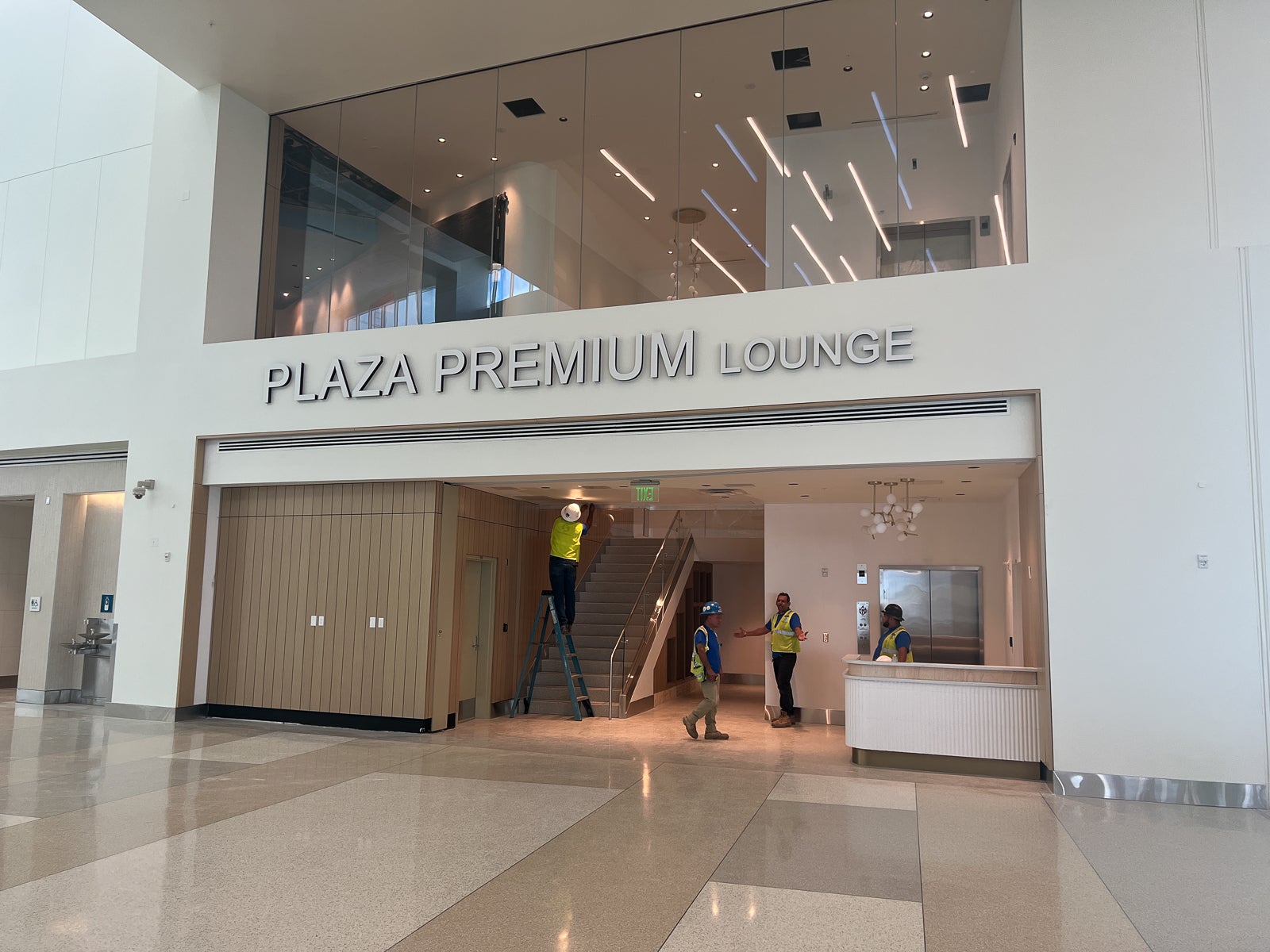 But the real focal point of the Palm Court — and perhaps one of the coolest features of the new terminal is an immersive art installation by Gentilhomme called the "Moment Vault."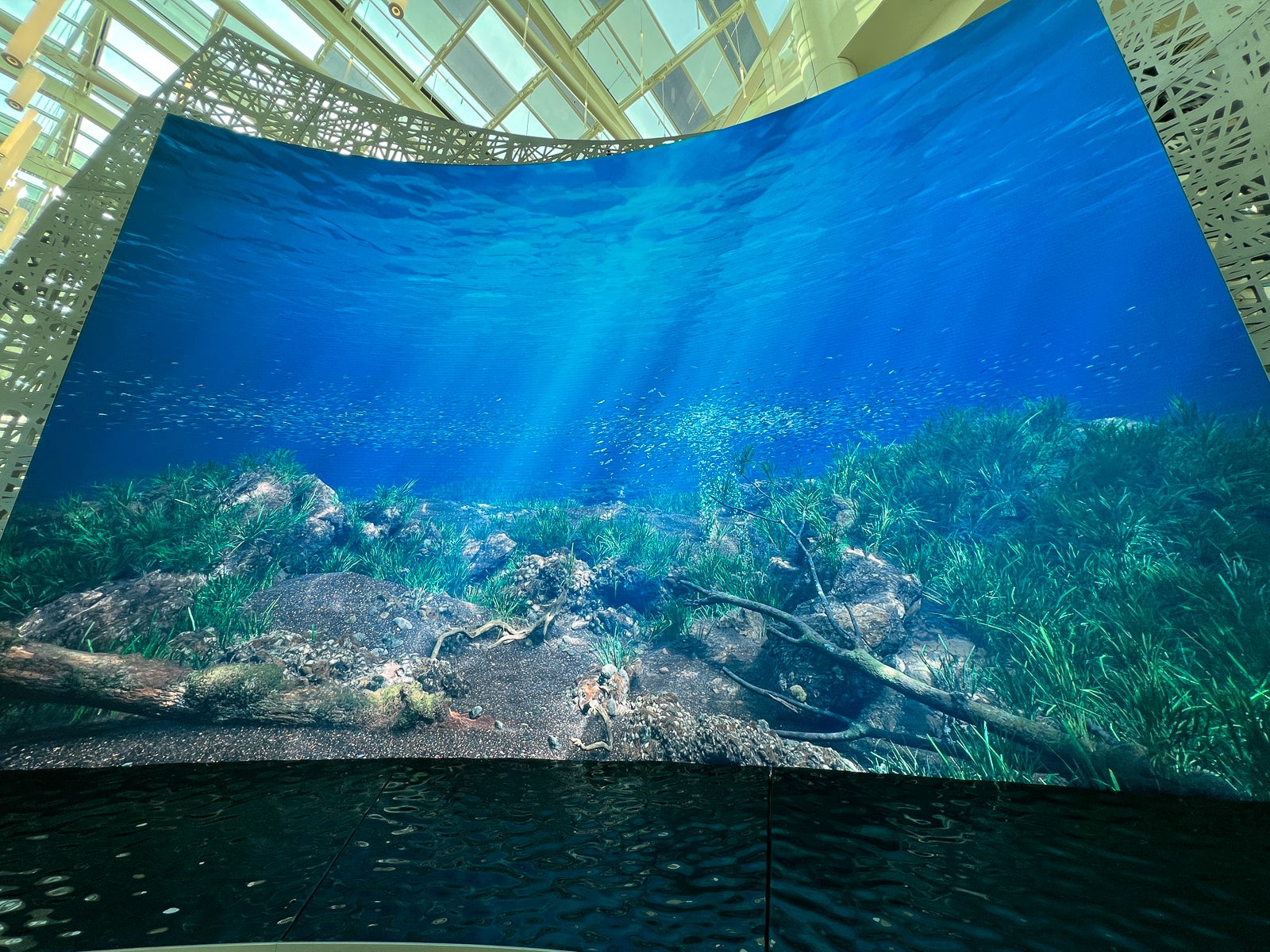 The "Moment Vault" uses a series of cameras and screens to allow travelers to interact with what's being displayed. The screens are in rotation — among them is one that features an interactive mirror.
Kids will absolutely LOVE this part of Orlando Terminal C. An art installation by Guillaume Cardell called the Moment Vault uses a system of cameras to immerse travelers in the art, and allows them to interact with it. So much fun! pic.twitter.com/wlCdHjhMoq

— Ethan Klapper (@ethanklapper) September 6, 2022
Guillaume Cardell, one of the creative directors on the project, told TPG that he had kids and families in mind when designing this work of art.
Spacious Gate areas
Terminal C has 15 gates and 20 parking positions for airplanes, including hardstands on the ramp: all of them fit narrowbodies, while seven fit widebody aircraft up to the 747. Two of the parking positions are A380 capable.
A typical gate area features plenty of seating — and different types of it too.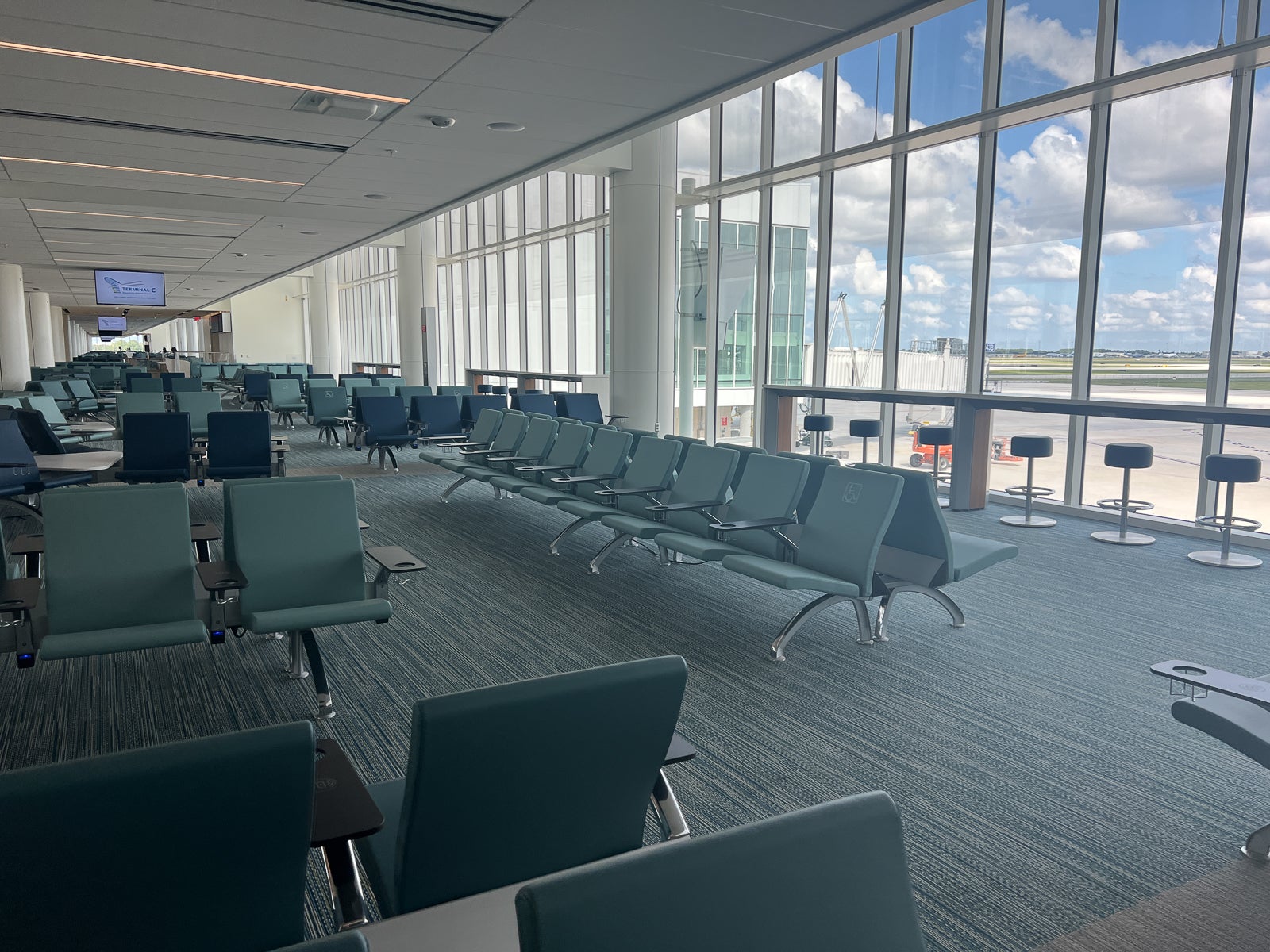 The regular chair seating features wireless charging (though this did not work at the time of the preview) as well as 120 volt outlet and two USB-A plugs at each seat.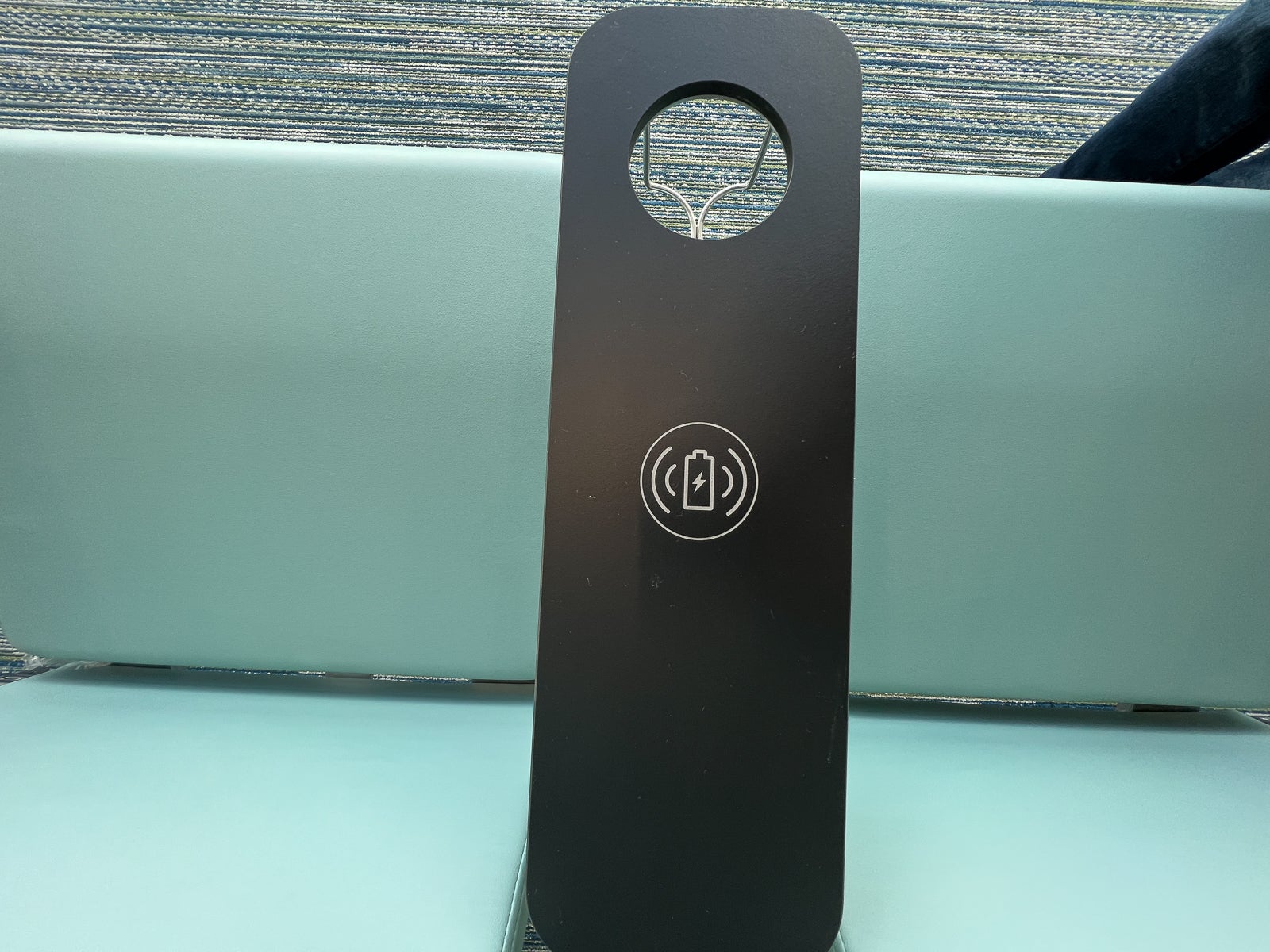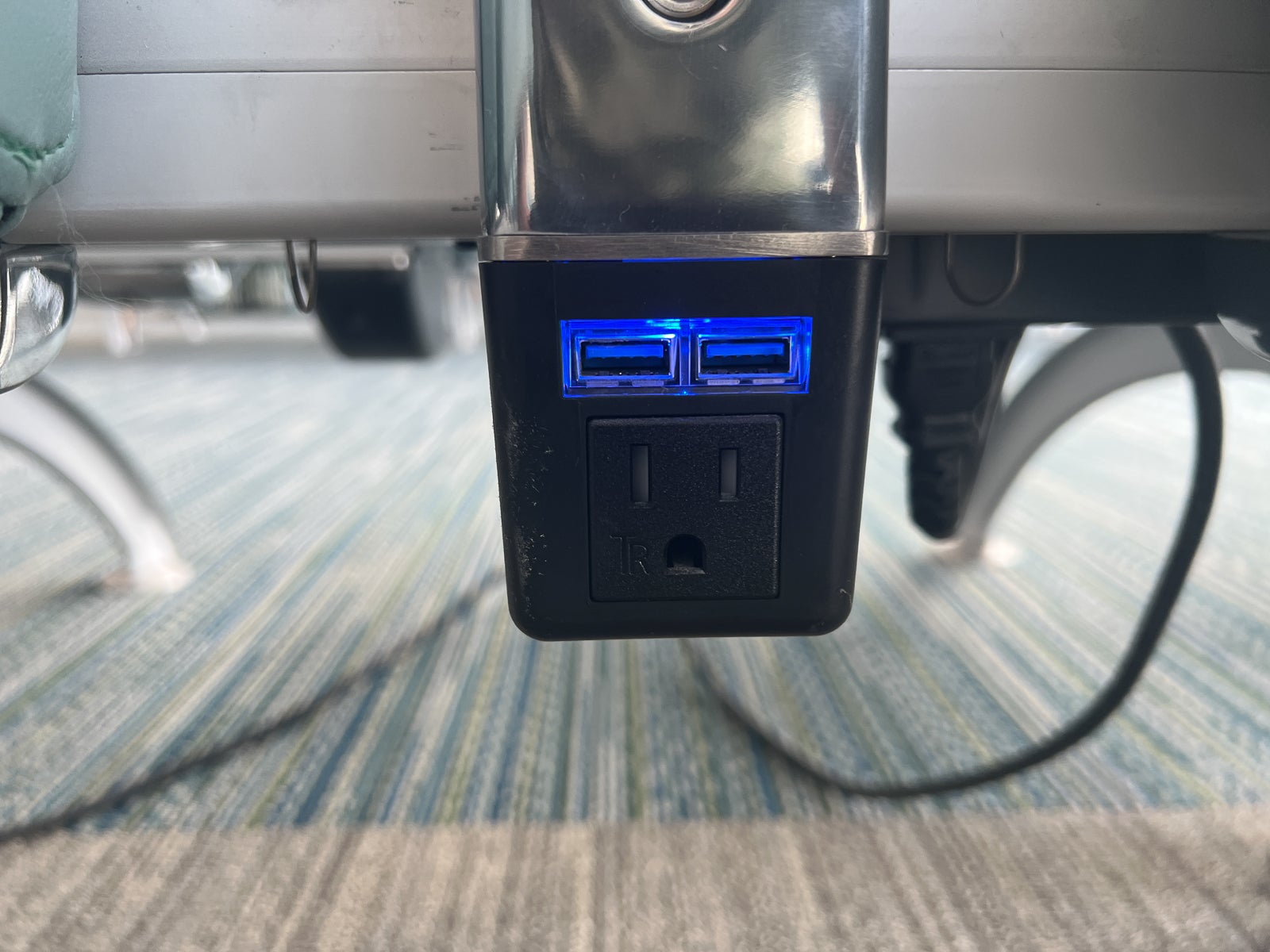 For those looking to get work done, there are high-top seats available, which also feature outlets.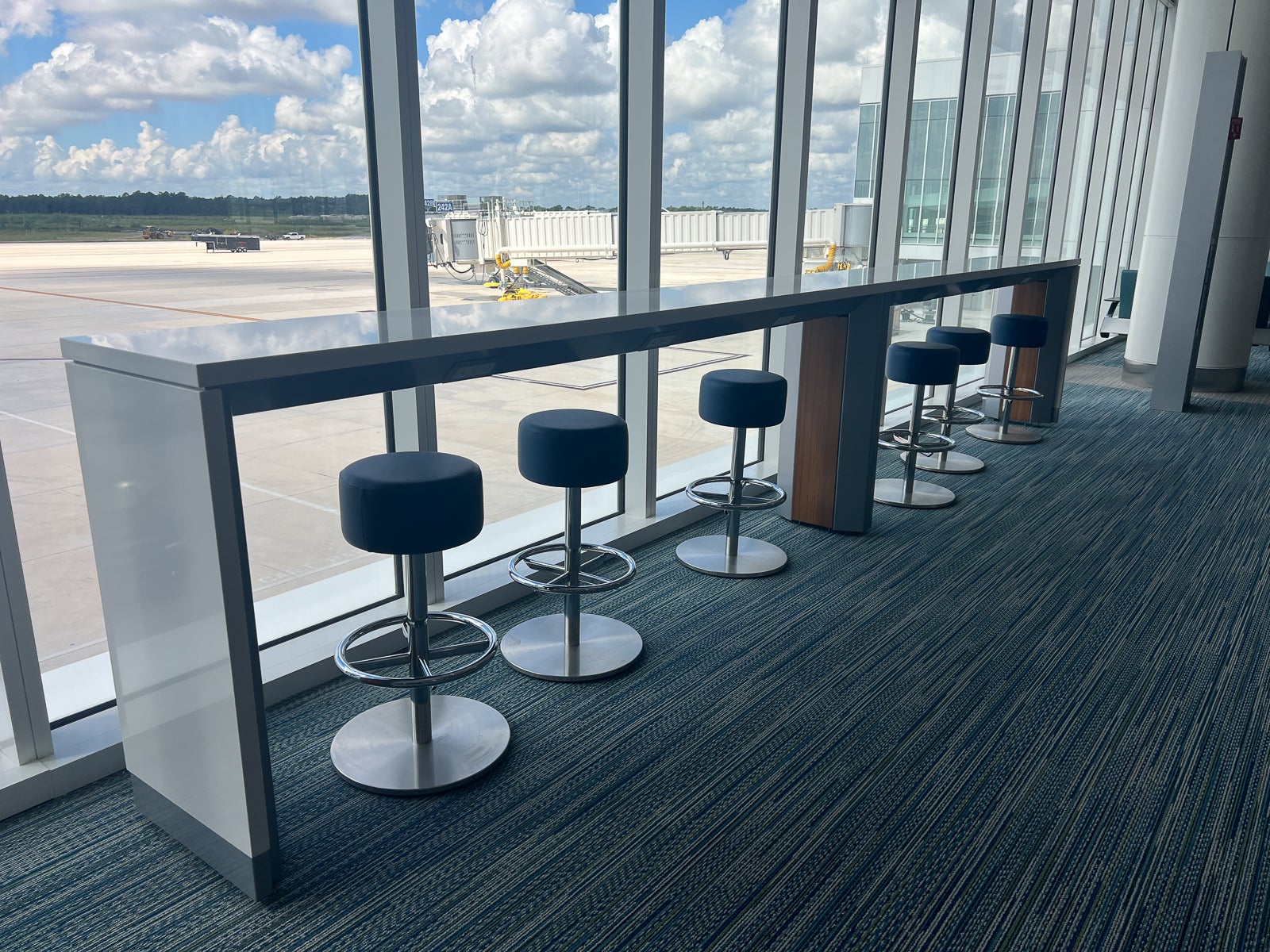 Each gate features a biometric boarding system, allowing outbound international travelers to board their flights via facial recognition.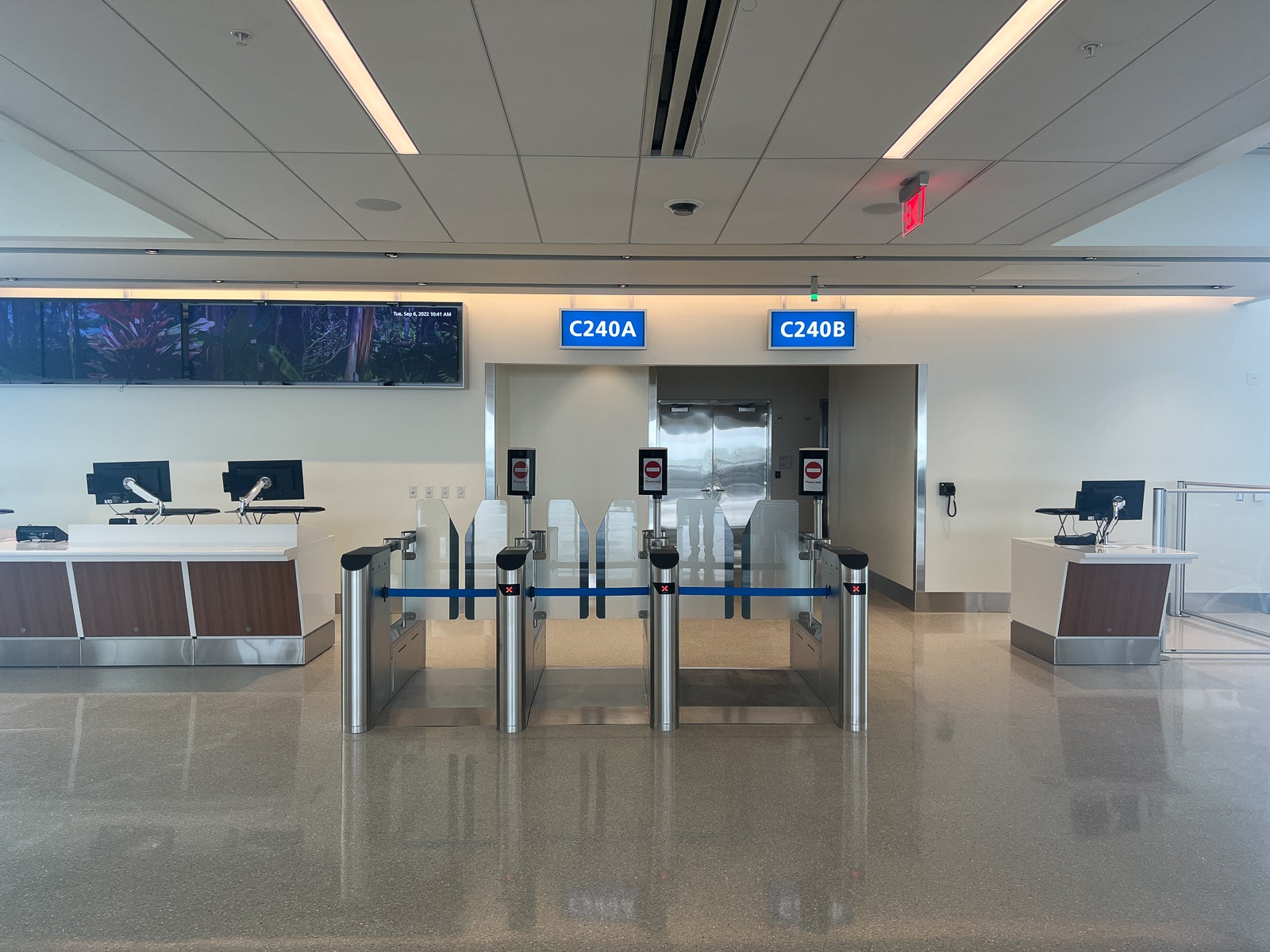 The gates are common use, meaning that the airport authority will assign them to airlines on a daily basis.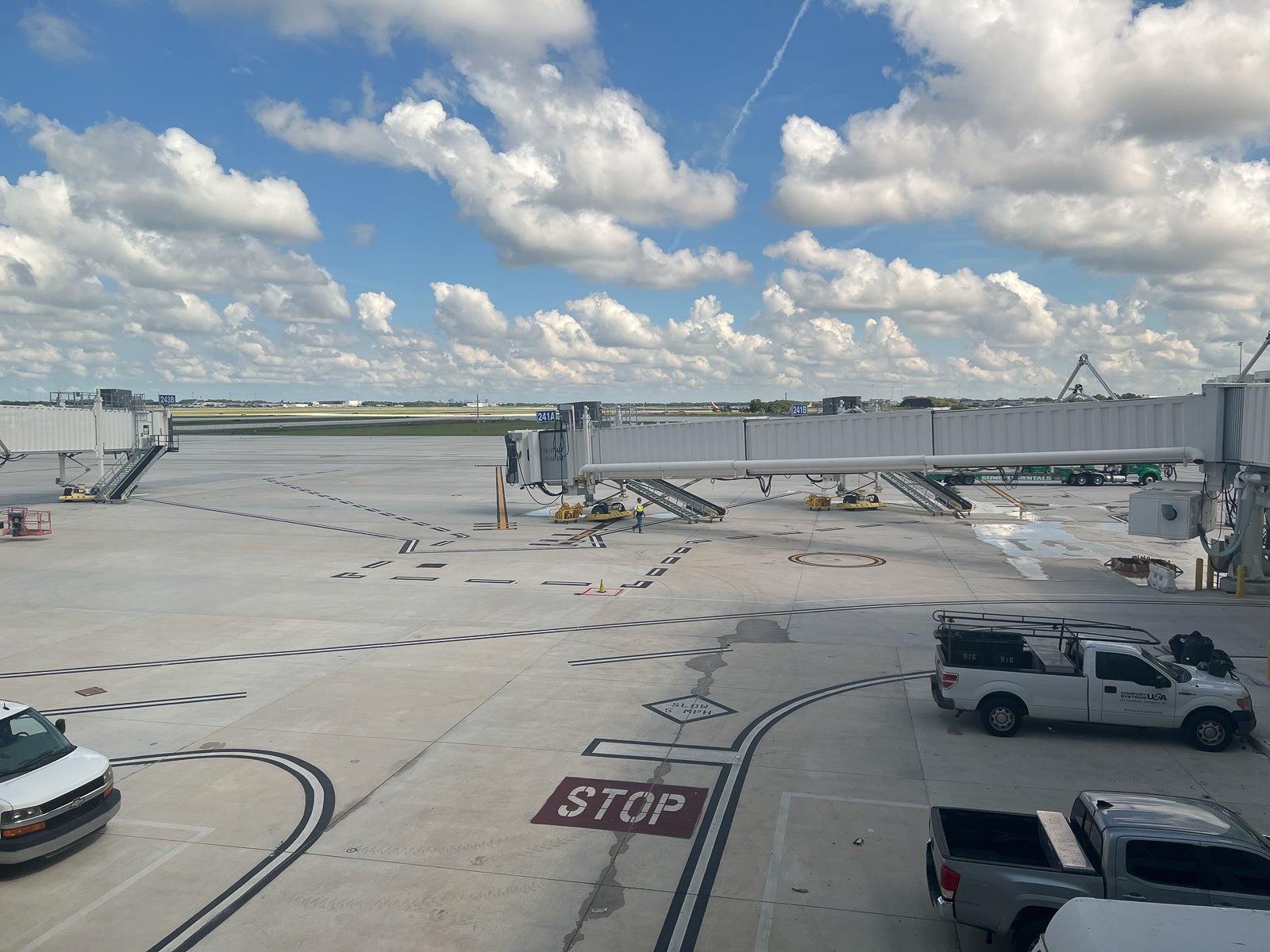 The terminal also features a digital wayfinding system with the latest flight information as well as weather and directional information for travelers.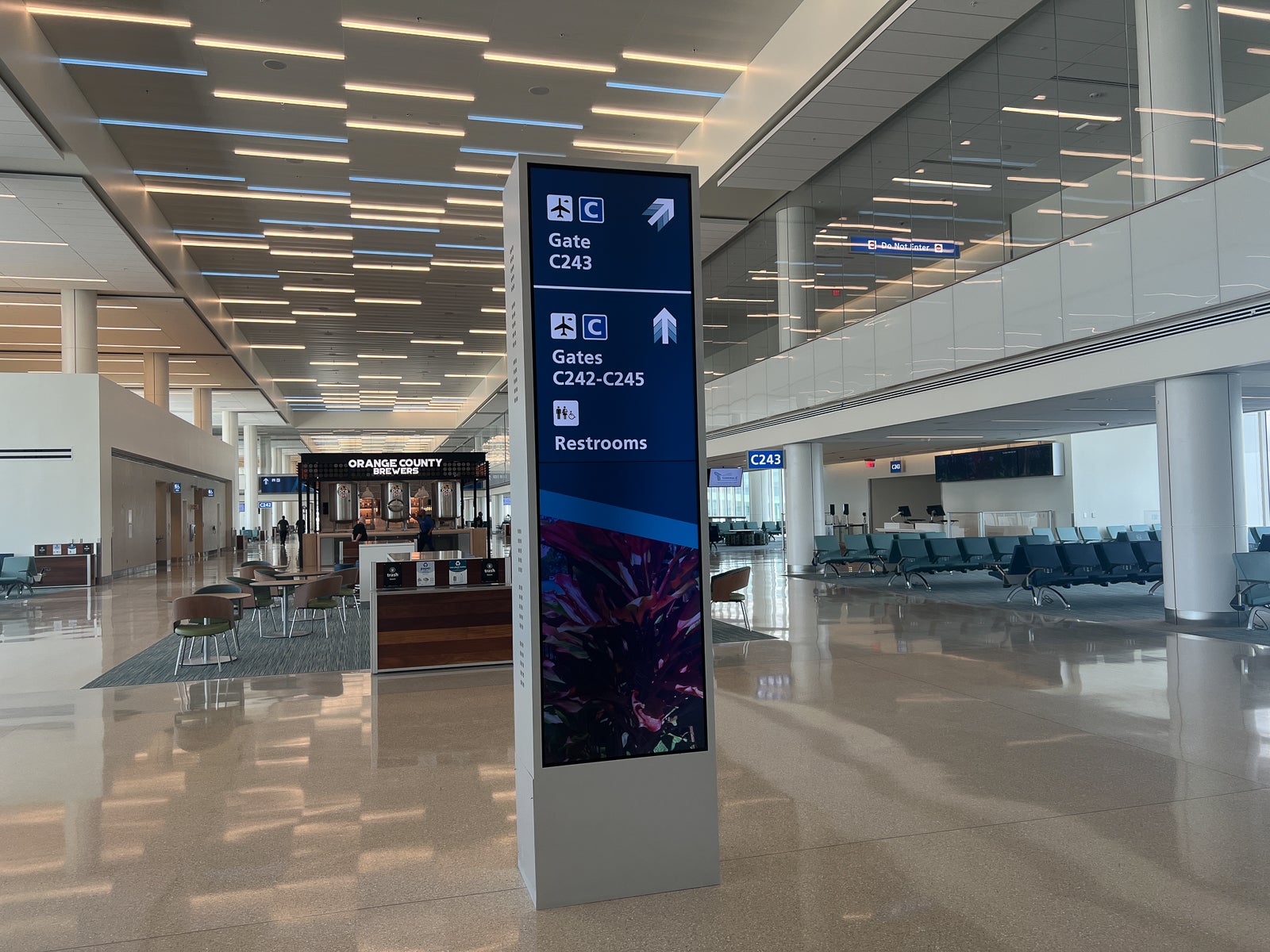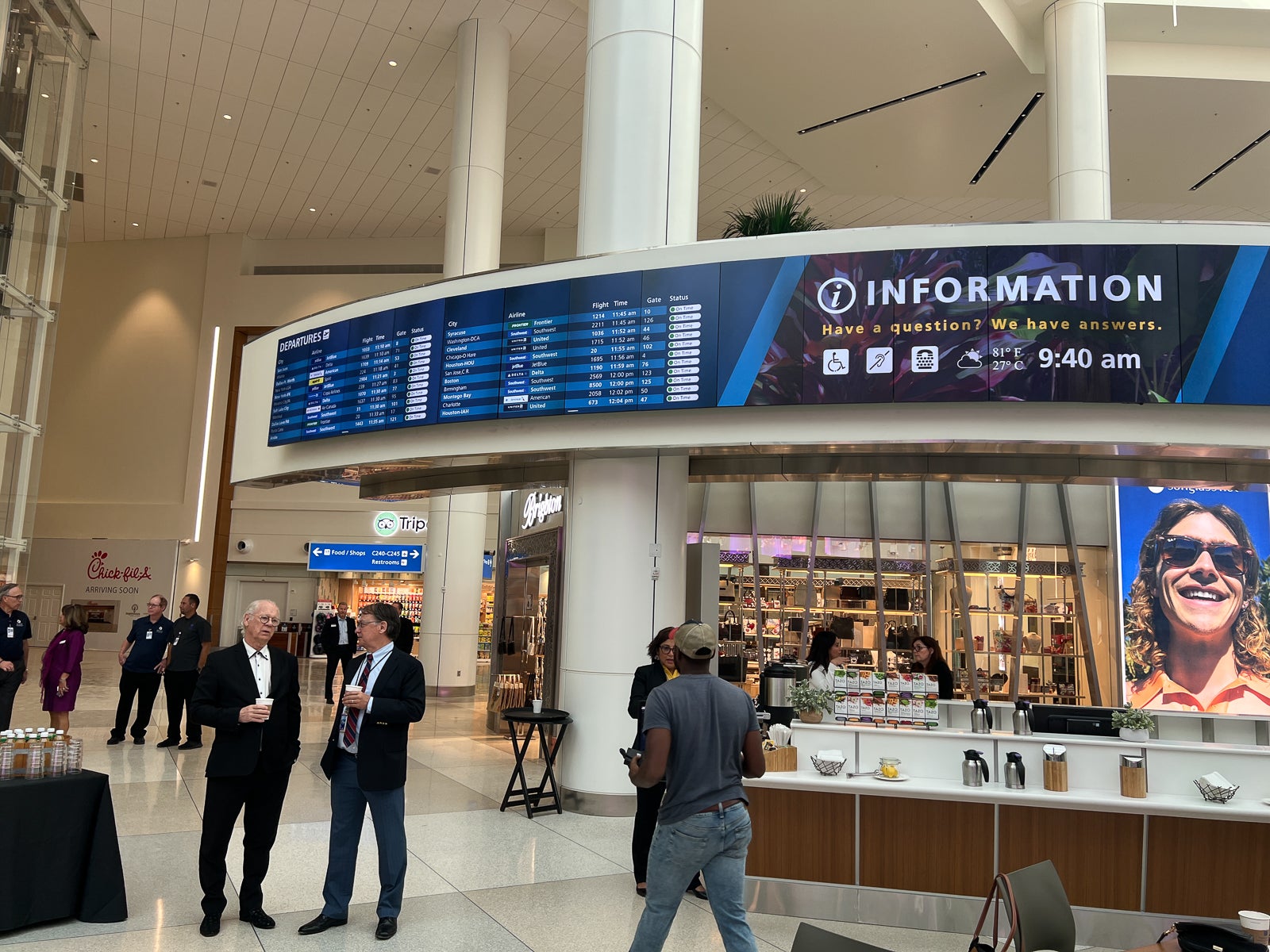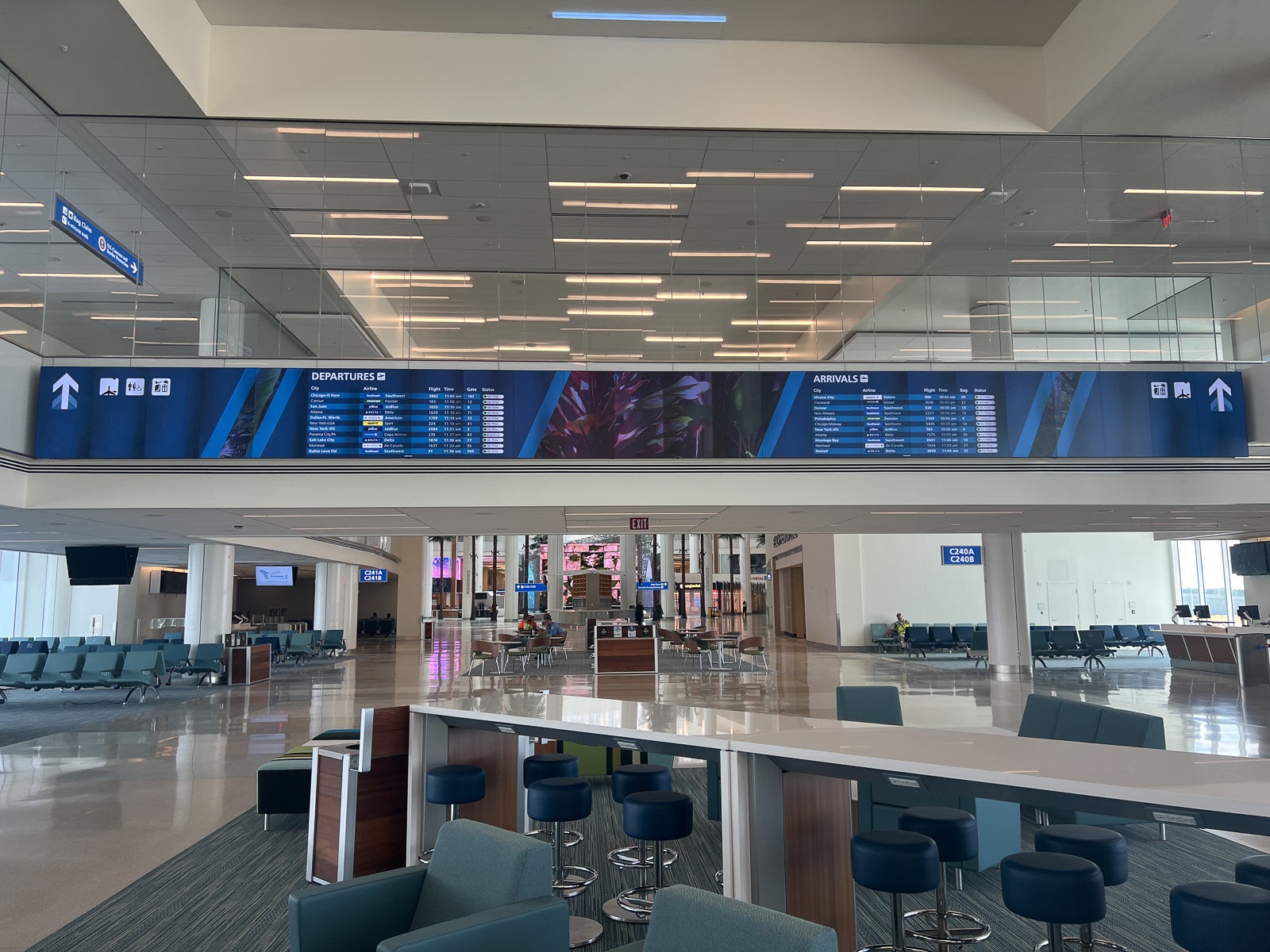 Speedy baggage handling system
For media preview day, reporters got to visit the bowels of the terminal for a sneak peak at the terminal's new checked baggage handling system
The system is based on radio frequency identification tags — or "RFID tags" — embedded in standard baggage tags, and uses a network of yellow trays to whisk bags to and from aircraft.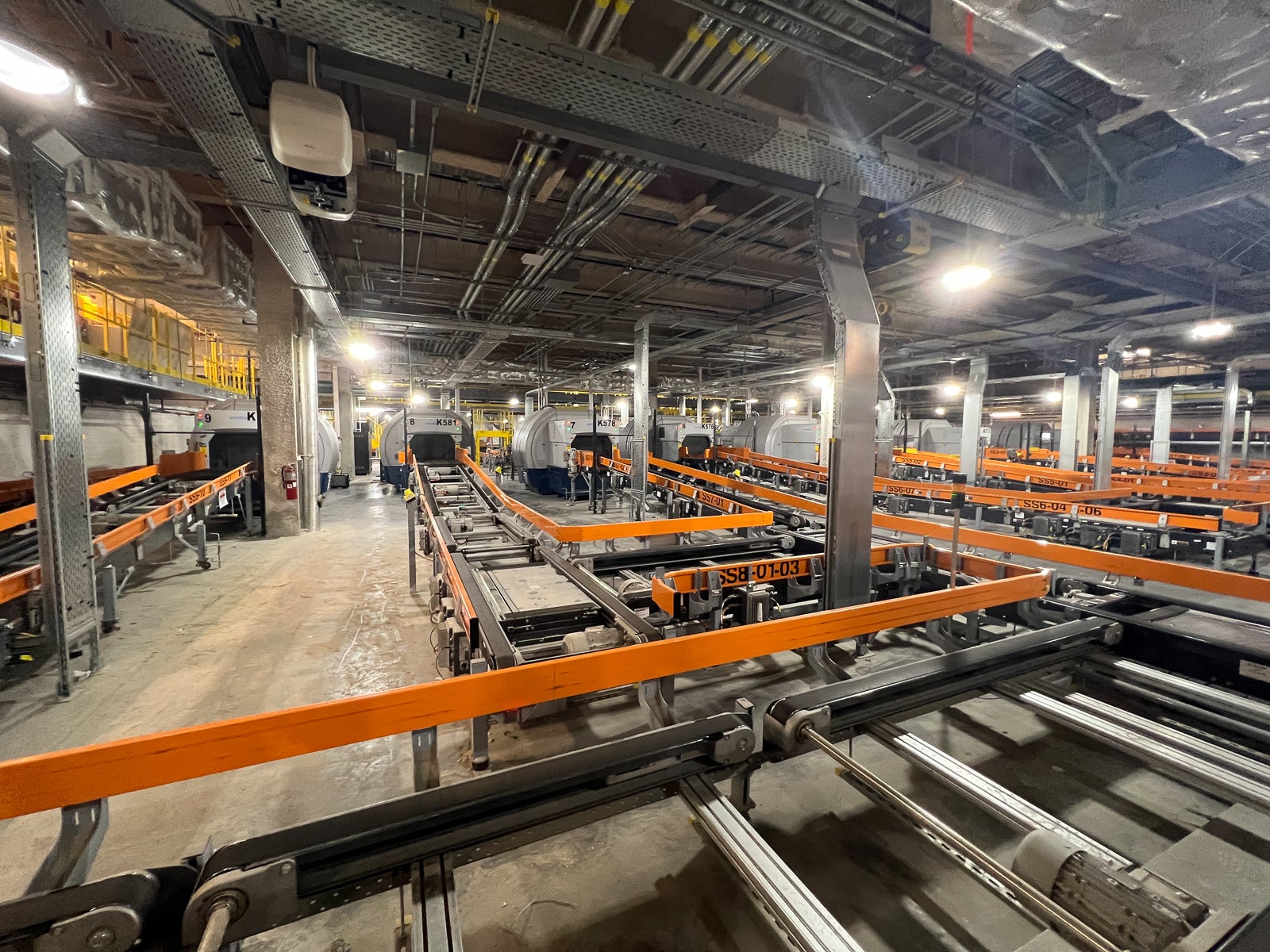 The system features six miles of track and is the largest such system in the U.S., assistant director of airport operations Scott Goodwin said. Similar systems are in use in parts of LAX and San Francisco International Airport (SFO).
Goodwin was particularly excited about the facility's early bag storage system. This futuristic, automated warehouse stores up to 1,750 bags for passengers who arrive early or who have bags arriving on a long connection. A robotic picker retrieves bags using RFID technology.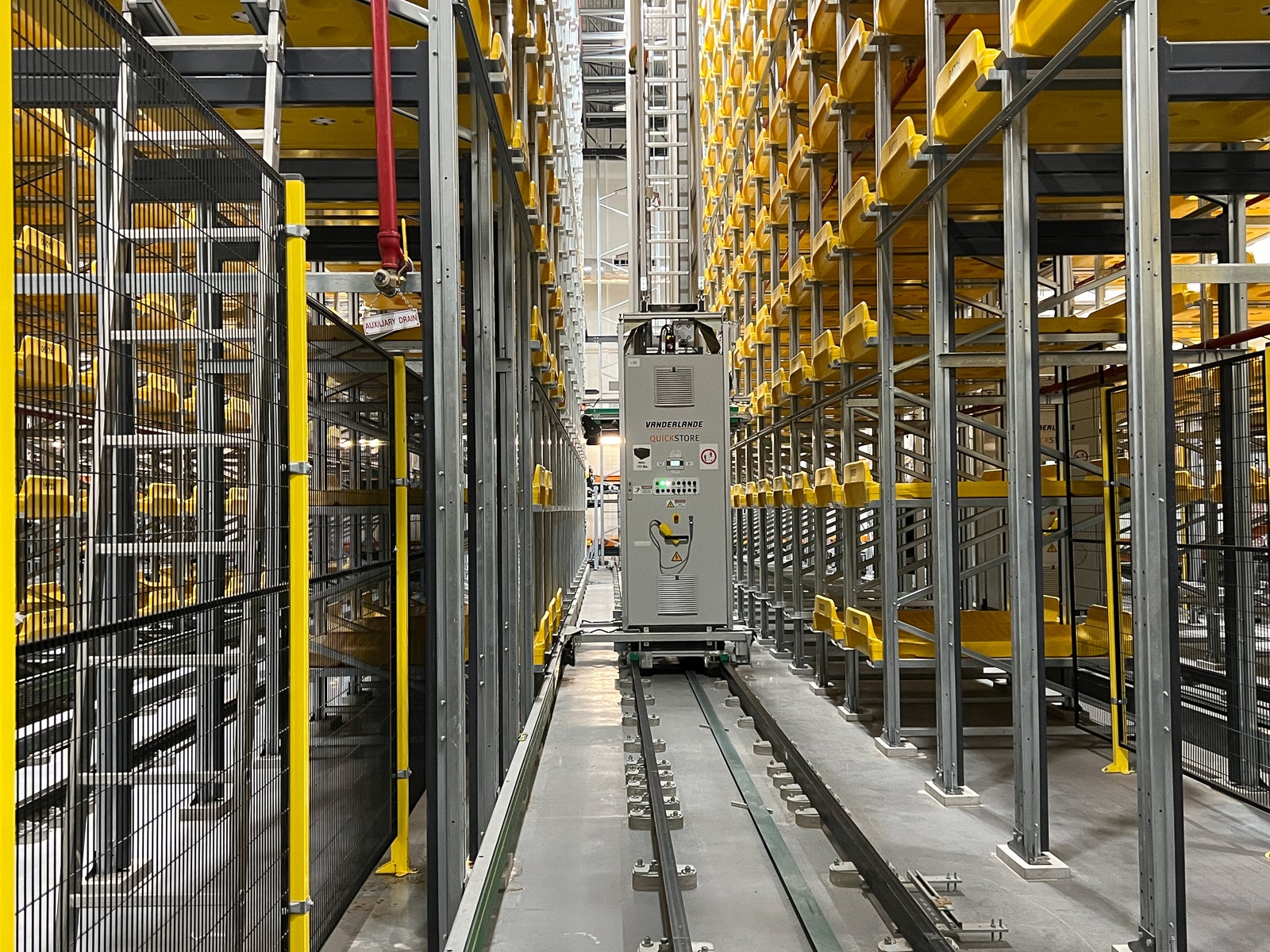 Combined, Goodwin said, the system should increase passenger satisfaction by delivering bags to passengers faster and by providing the technology to help reduce the number of bags that are mishandled. That time counts: Arriving international passengers will actually claim their bags first in this terminal before proceeding through U.S. Customs and Border Protection, in contrast to the usual setup where an immigration check takes place prior to a passenger claiming their bags.
Intermodal link
Across The Boulevard and past the terminal's parking garage is the terminal's rail station — a convenient intermodal link that is common abroad but a rarity in the U.S.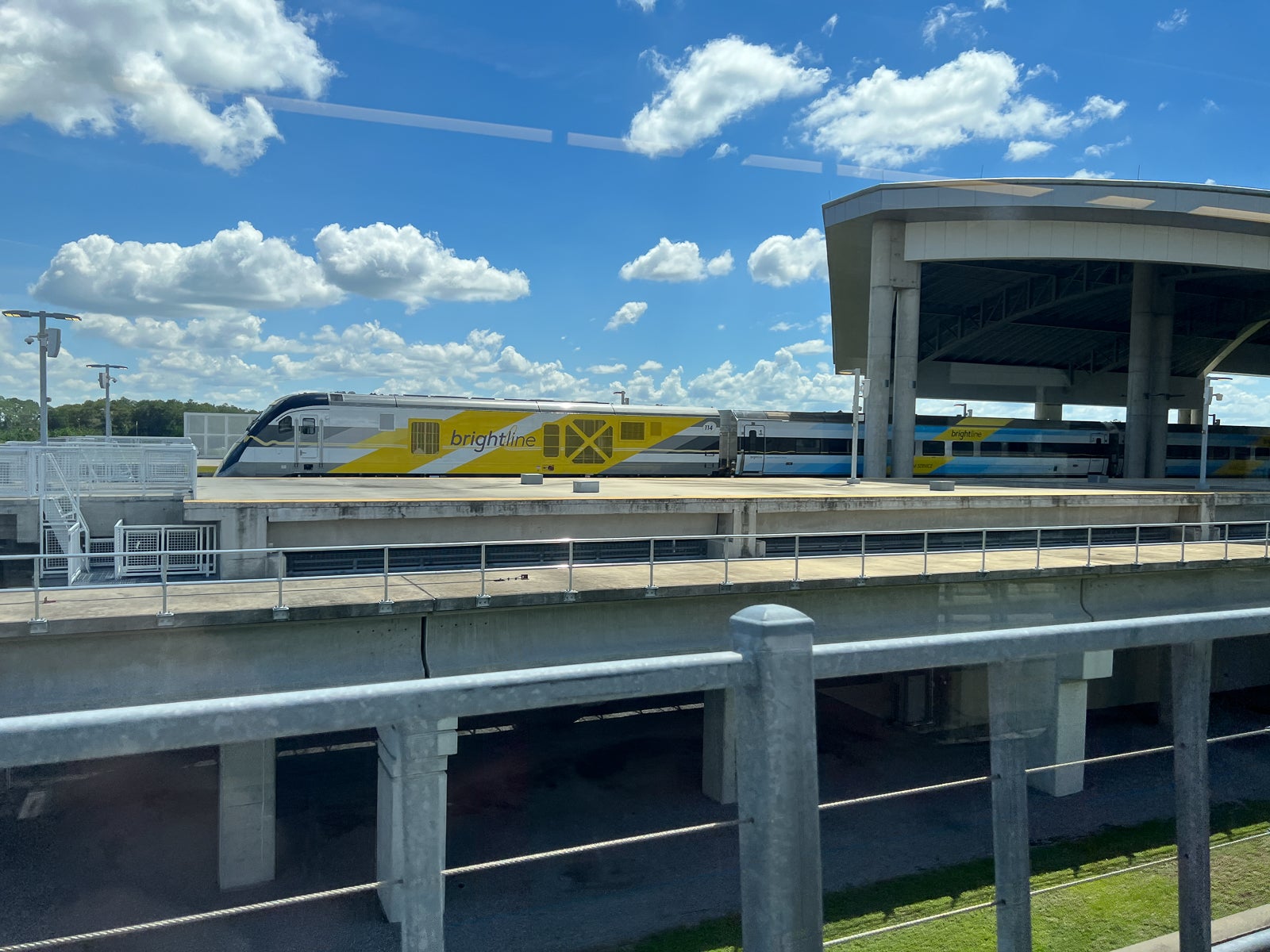 Thibault, the airport authority CEO, was excited about this new link. He spoke of European travelers who are used to the rail links as a good target audience for the service, as well as travelers from other parts of Florida, such as West Palm Beach, using the airport and its rail link to access international flights.
Talks are ongoing between Brightline and multiple airlines to offer a possible codeshare, which would allow for a seamless ticketing experience and other possible enhancements, Thibault said.
Brightline's service to South Florida is set to begin next year. Talks are also ongoing for a connection to Central Florida's commuter rail system, SunRail.
Bottom line
Visitors to Orlando are in for a big treat when Terminal C opens Sept. 20. The new facility is brighter, airier and much more efficient than the airport's existing terminal.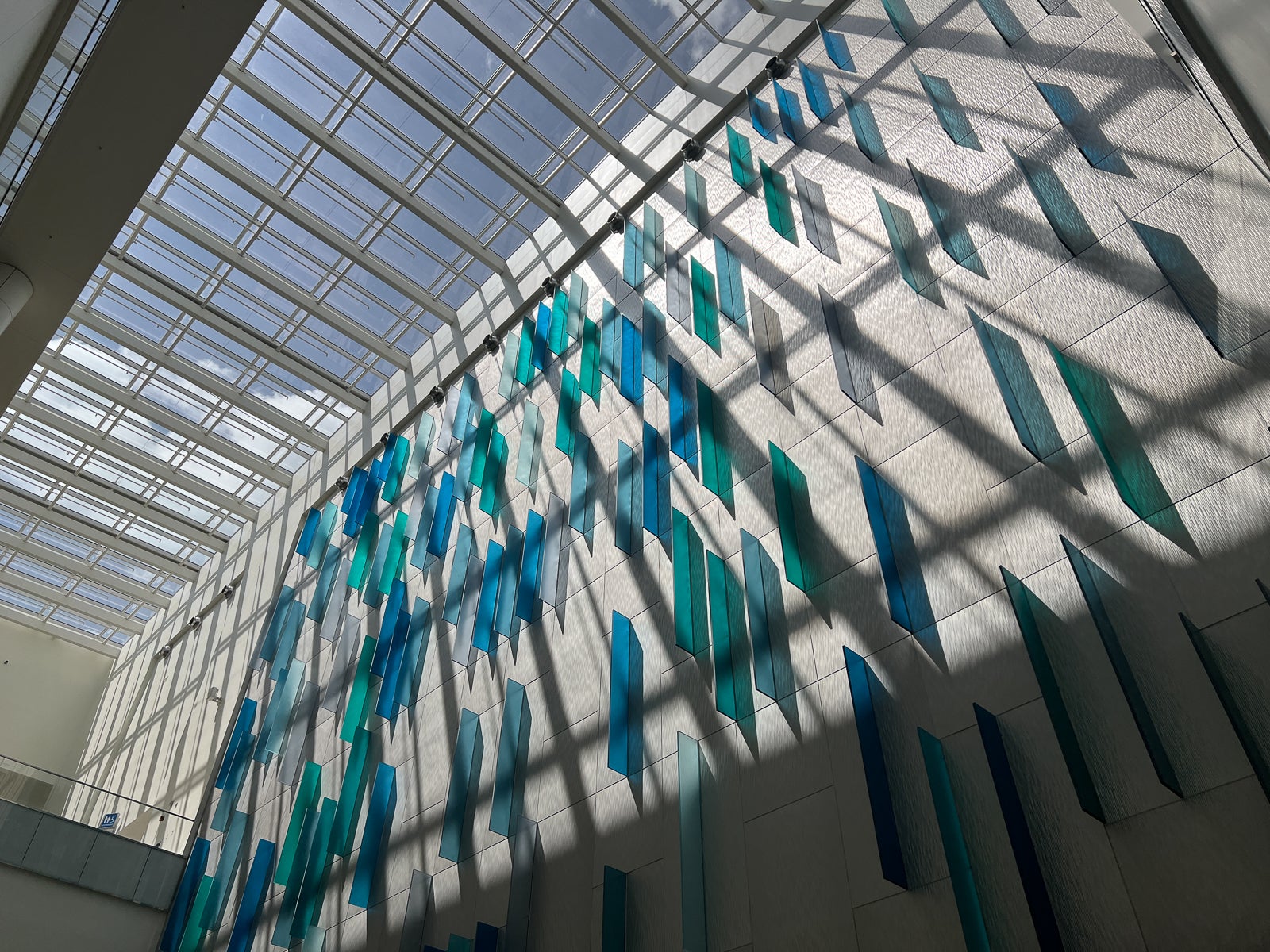 Above all, the facility is convenient, with a parking garage and rail station attached to it. It also takes considerably less time for passengers to go from the curb to gate, without a people mover system and with automated TSA screening lanes. Bags will also be handled speedily with the airport's new high-tech baggage screening system.
And, for families traveling to Orlando, that's what often matters the most.
Featured photo by Ethan Klapper/The Points Guy.
This content was originally published here.