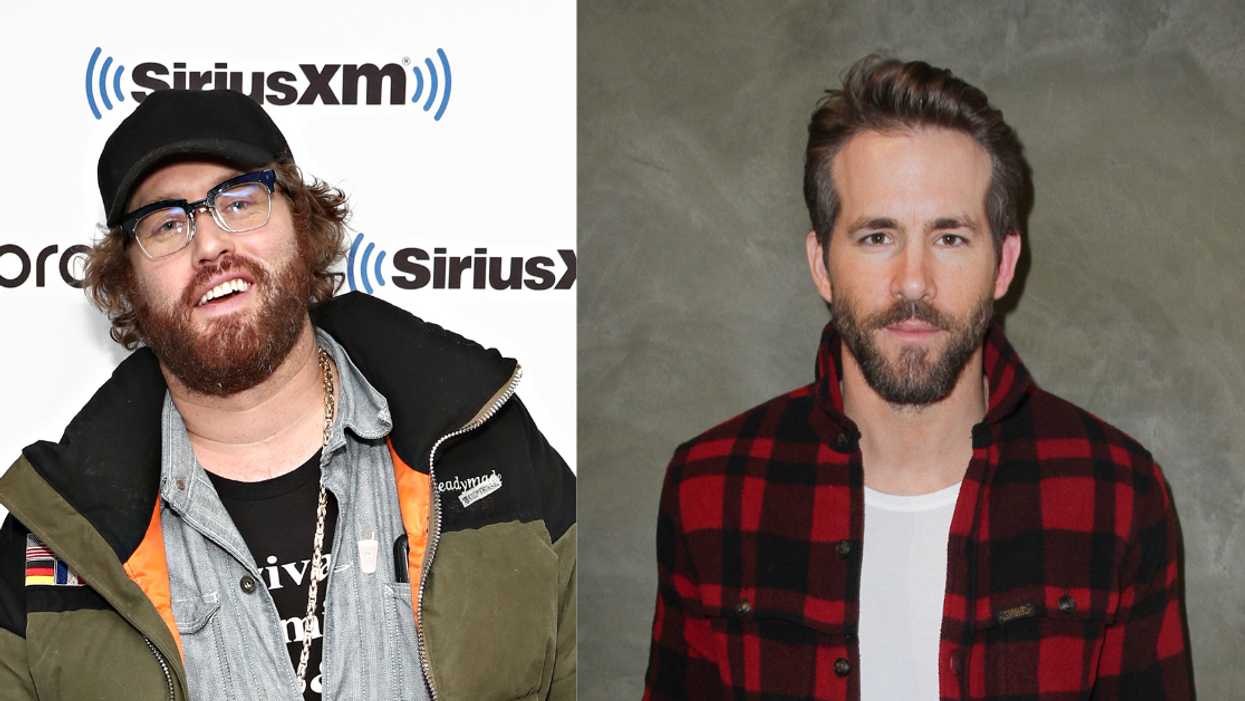 Sometimes you try a thing to revive your struggling acting career and it works.
But for actor TJ Miller his recent gambit of an interview backfired spectacularly.
MIller said in an interview on the Adam Carolla Show Ryan Reynolds—his former costar in the Deadpool series where Miller played Deadpool's friend Weasel—must hate him and he doesn't know why.
Miller claimed Reynolds separated emotionally from his friendship with Miller once Deadpool got popular. He also said he'd never work with Reynolds again—as if anyone asked him to.
Miller said there was a "weird moment."
"We had a really weird moment on Deadpool where he said, 'let's do one more take'… but then as the character, he was horrifically mean to me—but to me, as if I'm Weasel."
And while this is all fairly standard griping from a Hollywood actor whose career tanked, Miller's words got noticed.
Not so fast, fans of Reynolds and people without long-term memory loss said—that's not the whole story. Miller, it seems, was not a great guy.
People have a list of the actor's transgressions and misconduct detailed on Miller's Wikipedia page.
\u201cTJ Miller: Why does Ryan Reynolds hate me omg I\u2019m so mad. \ud83d\ude21\ud83d\ude21\ud83d\ude21\ud83d\ude21\nAlso TJ Miller:\u201d

— Nitro-Spidey (@Nitro-Spidey)
1665273042
\u201cTJ Miller being confused as to why Ryan Reynolds hate shin when he literally called in a bomb scare, had a sexual allegation against him, had a work misconduct allegation and transphobic allegations against him.\n\nYeah that\u2019s baffling dude.\u201d

— Danreviewsathing (@Danreviewsathing)
1665134010
\u201cTJ Miller saying he'd never work with Ryan Reynolds again…Dude, you called the FBI on a girl for rejecting your drunken advances. Why would anyone work with you?\u201d

— Great_ Kraken (@Great_ Kraken)
1665179817
\u201cTJ Miller, known sexual assaulter, transphobe, and overall scumbag is mad that Ryan Reynolds was mean sometimes.\u201d

— John, human equivalent of Buoy the Troll (@John, human equivalent of Buoy the Troll)
1665437103
Some commented on the audacity Miller needed to think he was the one with the decision to work with Reynolds, and not the other way around.
\u201cI love that TJ Miller thinks he has a say on whether he works with Ryan Reynolds again\u201d

— cinematological (@cinematological)
1665001572
\u201cSo Ryan Reynolds, a guy I\u2019ve never heard one bad thing about, doesn\u2019t want to be in a movie with a guy that sexually harasses women and calls in bomb threats. TJ Miller couldn\u2019t have possibly thought this interview would go good for him right?\u201d

— Fire Bill O\u2019Brien right effin now (@Fire Bill O\u2019Brien right effin now)
1665453333
\u201c@TheAVClub Yeah I\u2019m sure Ryan\u2019s just busting down this man\u2019s door, and crying into his Marvel money about this relationship ending\u201d

— The A.V. Club (@The A.V. Club)
1665423933
\u201cLOL at TJ Miller saying "you can't fire me I quit" to Ryan Reynolds. Sure, dude. You won't work with him again. Okay. I'm sure that's totally your choice.\u201d

— Irwin Schwab (@Irwin Schwab)
1665229764
\u201cTJ Miller unintentionally making Ryan Reynolds look good by whining about Ryan hating him lol\u201d

— Chelsea Stone (@Chelsea Stone)
1665258341
\u201cLearning that Ryan Reynolds won\u2019t work with TJ Miller again is making me like Ryan Reynolds a lot more\u201d

— Jessica Price (@Jessica Price)
1665354398
\u201cTJ Miller out here making us love Ryan Reynolds even more than we did yesterday \ud83e\udd23\u201d

— Ryan (@Ryan)
1665296965
\u201cTJ Miller saying that Ryan Reynolds hates him as if that wasn\u2019t a compliment to Ryan Reynolds \ud83d\ude02\u201d

— Dallas '\ud83d\udc0b' Swoager (@Dallas '\ud83d\udc0b' Swoager)
1665404668
\u201cHonestly this just makes me like Ryan Reynolds more . \nIf you got Hugh Jackman wanting to work with you but TJ Miller not wanting too than your my type of person\u201d

— Edpool (@Edpool)
1665382134
As the Deadpool and Marvel press machine winds up to launch Deadpool 3, it probably won't be the last time we hear from Miller.
This content was originally published here.