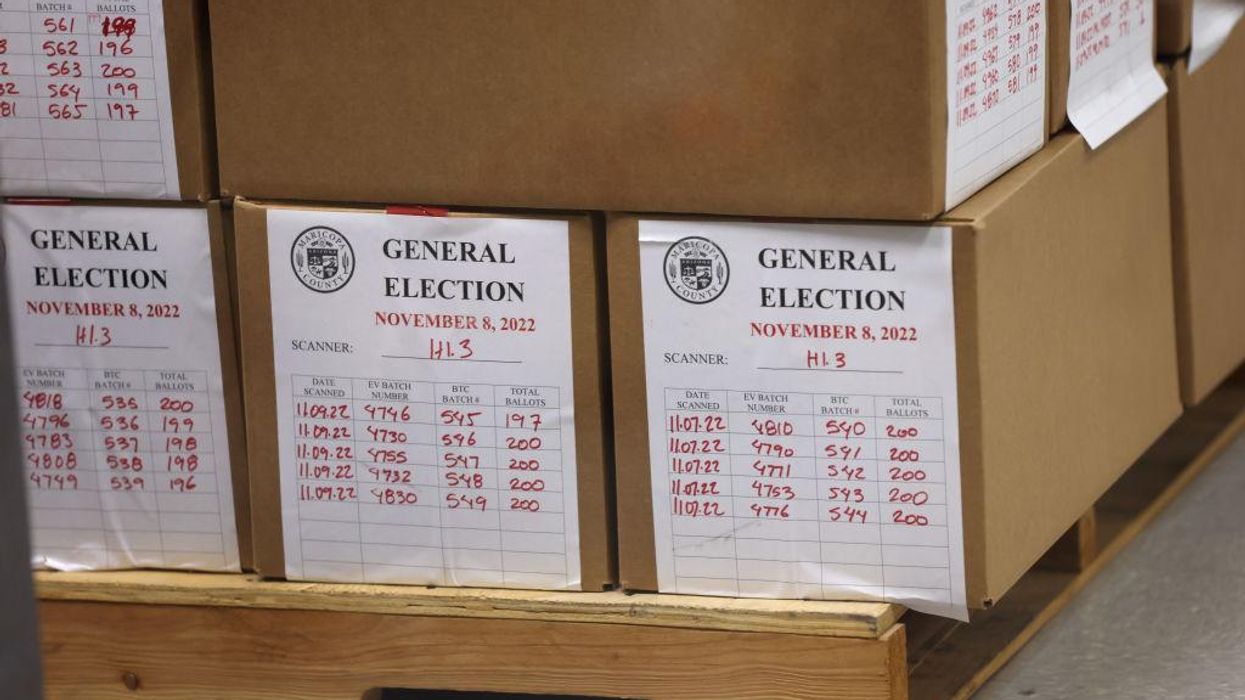 The highly-anticipated midterm election results in Arizona will be delayed until "early next week," according to Maricopa County's top election official.
As of Wednesday night, there were approximately 619,000 ballots left to be counted in Arizona, with as many as 410,000 uncounted ballots in Maricopa County.
"County officials said they received 86,000 early ballots Friday through Sunday and an additional 50,000 on Monday," KPNX reported. "A record-setting 290,000 early ballots were dropped off on Election Day, far exceeding the 170,000 early ballots received on Election Day in 2020."
Maricopa County recorder Stephen Richer said, "This number is immense, and it's a conversation that probably Arizona needs to have in terms of public policy because this is a number that keeps on growing."
"In many ways, it's wonderful," he added. "Arizonans appreciate the ease of the voting process and that you can just take your early ballot and drop it off on Election Day, but it does inhibit us from having a higher percentage of returns available within the first 24-48 hours."
Maricopa County Board of Supervisors Chairman Bill Gates warned Americans that the election totals are still several days from being released.
"I think that we'll see the lion's share wrap up by early next week," Gates told CNN.
Gates would not give a specific day that all the votes would be counted.
"If you drop off an early ballot, it means it has to come in on Wednesday and start the process of being signature verified," Gates told CNN. "We have experts here who go through, compare the signature on the outside of the ballot envelope with the signature that we have in our voter registration file, so that takes a while, cause we gotta get that right."
Previously, Arizona election authorities hinted that the votes might be counted by Friday.
\u201cThe Chairman of Maricopa County's Board of Supervisors just said that there are around 400,000 ballots left to be counted and that they won't be done until "early next week."\u201d

— Greg Price (@Greg Price)
1668108022
Maricopa County's election department said on Wednesday, "The hand count audit has begun. Republican, Democratic, and Libertarian party chairs drew the races and ballots that hand count audit boards will review Saturday."
Maricopa County, the largest county in the state, is where there were rampant issues with vote tabulating equipment on Election Day. Gates noted that about 20% of voting locations had issues processing ballots on Tuesday morning. The problems stemmed from a "printer issue," and the malfunctioning units were fixed by the afternoon.
"Maricopa County has identified the solution for the tabulation issues at about 60 vote centers. County technicians have changed the printer settings, which seems to have resolved the issue," read a statement from Maricopa County officials. "It appears some of the printers were not producing dark enough timing marks on the ballots."
Gates said that approximately 7% of ballots that were cast on Election Day were put in drop boxes after the tabulators malfunctioned.
Gates and Vice Chairman Clint Hickman said on Wednesday, "We are committed to finding out what factors changed that led to issues at 70 Vote Centers on Tuesday. We are grateful to county techs who found a fix to the problem by adjusting printer settings."
The Arizona results could impact which political party controls the U.S. Senate.
At the time of publication, incumbent Democratic Sen. Mark Kelly was leading over Republican Blake Masters by a margin of 51.5% to 46.3%, with 70% of the vote counted.
In the Arizona gubernatorial race, Democrat Katie Hobbs had a slight edge over Republican Kari Lake by a margin of 50.4% to 49.6%, with 70% of the vote counted.
This content was originally published here.