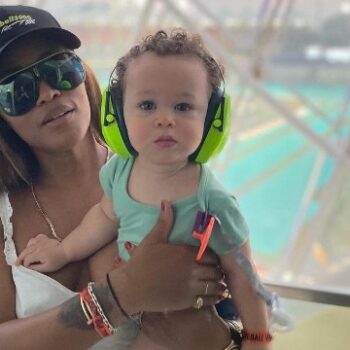 Eve's son, Wilde Wolfe Fife Alexander Somers Cooper, experienced the races for the first time this past weekend. The youngster's mom took to Instagram with pictures from the event.
"#photodump #f1weekend," Eve said of her and the family's trip to the tracks. "Thank [you] @astonmartinf1 for having us," the entertainer added.
Wilde appeared thrilled to watch drivers navigate the racetrack in hopes of victory. The youngster even gave the camera his attention for a picture that was simply adorable.
"That baby is gorgeous," one social media follower declared after seeing a candid of Wilde with his mom. "I know that ain't the newborn baby Eve just had," another supporter wrote online. "Lord, time is flying already," the fan added. "Beautiful family."
Eve and her husband, Maximilian Cooper, welcomed their son on February 1, 2022. Wilde arrived weeks after Eve confirmed her expectancy to the public and years after the singer and her husband tried to conceive a child without success.
"My husband and I, we've been trying and trying and trying and trying," Eve said during a segment on The Talk. "We've been doing certain things," the recording artist shared before delving into her myomectomy procedure, which removed her fibroids.
"As a woman, you just think things happen naturally and I felt like I was damaged," Eve revealed. "I felt like I was broken," she added. "I felt like, oh well maybe I'm not good enough."
It wasn't until Eve shared her struggles with fertility with the public that she began to get the support she needed to keep believing in her dream of becoming a mom.
"Since I've shared, people have been so sweet to me," Eve told The Talk audience and her co-hosts. "Even in the audience people have actually come to me and hugged me and said you deserve it and it's going to happen for you. So, thank you."
Wilde is Eve's first child and Maximillion's fifth child.
Photo: Eve/Instagram
The post EVE SHARES PHOTOS FROM 'BABY'S FIRST RACE' appeared first on BCK Online.
This content was originally published here.