Are you looking to produce prose worthy of public recognition? A master's in creative writing from Hull Online could be what you're looking for. 
We recently sat down with MA in Creative Writing Programme Director Dr Chris Westoby to find out how the MA supports writers on their journeys to finding their unique voice.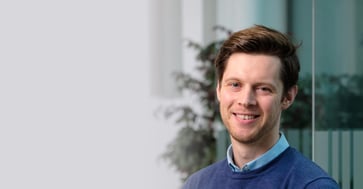 What can you tell us about the MA Creative Writing? 
Chris: The staff who work on this programme represent the many different facets of creative writing. They specialise in different genres and forms of creative writing. Everybody is very supportive of our students and wants to make sure students are being supportive of one another as well. 
We all identify as being a writer and we're all at different stages on that journey. Many people join the programme who have quite a lot of experience in writing already; some people join us who have only ever written for themselves and now wish to master that craft and perhaps share it with the world. 
Throughout the programme, we are constantly looking at and critiquing one another's work. We're constantly offering advice to one another and by so doing we are becoming better editors of our own work as well as supporting our fellow writers. 
How is the course structured? 
Chris: This is a two-year, part-time programme and all the modules focus on prose writing. The Writer's Craft is the first module. Here you will look at your own writing, but also pick apart the writing of well-established authors. What's working here? What's not working here? We'll also introduce one another to the continuous cycle of peer feedback that runs throughout the entire programme. 
The things that you learn in The Writer's Craft you're expected to take with you as you enter the three modules which are more genre specific. There is Writing the Novel, Writing the Short Story, and there's Writing from Life. Each of these modules will study  very different forms of writing and different authors, and within these forms of writing, different genres.  
The final module is The Writer's Portfolio. This is where you're being unleashed with the things that you've learnt in the first four modules and tasked with producing an extended piece of writing; this might be the opening section of a novel for example, or a collection of short stories.
You've spent all this time really honing your own writer's voice. You might have learnt a new passion, or you might have consolidated what it is that you feel you are as a writer. By looking at these other forms of writing you will get ideas for what you'd like to do for an extended project. 
In The Writer's Portfolio, you are embarking upon research for yourself. You're writing something that's very specific to you. Everybody is writing something vastly different. Also, depending on what it is that you're writing, you're paired with a supervisor who you work with on a one-to-one basis rather than having a tutor teaching a group, as with the first four taught modules.  
As you make your way through this module, you're encouraged to maintain and retain that habit of peer feedback, where you're constantly meeting as a group of students and critiquing one another's work and supporting one another.  
The programme will end, but we don't want it just to end and then you stop writing. We want you to continue writing and improving, because you've learnt these editorial skills that you get from offering feedback and receiving feedback on your work. 
The application process involves writing a personal statement and creative writing sample. What are you looking for with these? 
Chris: The key to your personal statement is to let us know why you'll be a good fit for this programme. Some might evidence their experience of learning creative writing in a higher education setting, but for other it really can be a very different form of experience that you bring to the table.
If you can let us know why that makes you an ideal applicant, then we are very open to the many different forms that experience might take. Your course advisor will offer you advice and guidance as you form your statement. 
What we'd like to see in your sample of writing, whether it's one piece or several, is some of the fundamentals of writing prose.  
Can you establish a sense of place? Can you give us engaging details about the world which you're writing about? Can you show us some characters? And can you show us that you have a strong writing voice in what it is that you're portraying? This can be fiction or non-fiction.  
It's about showing that you have an eye for what makes an engaging piece of writing. Some students submit one piece of writing that might be a complete story in and of itself, or it might be an extract from a novel that they've been working on. Or they might present several shorter pieces, which collectively demonstrate these skills.  
Think of your writing sample as an opportunity to show us that you have a grasp on writing prose that can be your launchpad into the rest of this programme. 
Will students be able to learn new techniques whilst maintaining their own writing style? 
Chris: Some people who are thinking about joining us ask, if I must try all these different types of writing and different exercises, might I lose who I am as a writer? And the answer is absolutely not.  
There are two things that happen by putting yourself out there and learning various types of writing on this programme.  
One of them is that by studying different writers and engaging in different forms of writing and working with such a diverse range of students and tutors, you may find a type of writing and a voice within writing that you didn't really know was your passion until you started this programme.  
But equally, the more you study, the more you're informing your own writing voice, and the more comfortable and grounded you become in who you are as a writer. You're trying all these different things to be experimental, to see what it's like, to see what fits you and see what you can take from that. 
You maintain your own writing style, and you are introduced to other options should you choose to go down that route. 
What are the career options after students graduate? 
Chris: This MA can help you to become a published author. Several of our students who have left only very recently have already gone on to win awards and gain publication. 
Some students move straight from this MA after realising that they want to take it even further and do a PhD or an equivalent, which we offer guidance on and help with putting together your application.  
Creative writing will also give you a wealth of transferable skills that are currently highly sought after by employers, including your ability to deploy critical analysis, whether it's for written work or for real life phenomena. 
Creative Writing graduate Gosia Buzzanca recently won the W&A Working-Class Writer's Prize for 2022. We spoke to her about winning the award and how studying for the MA has shaped her writing:
Will there be opportunities to meet in person during the programme?  
Chris: Our optional face-to-face events are a fantastic chance for different cohorts, people who are at different points of the programme, some who are right near the end, some who are only just starting, to meet to exchange knowledge, to give each other advice for upcoming modules or to reflect on how they're finding the modules now.  
At one event we met at a gigantic house in the countryside and simply spent several days with one another doing lots of different writing activities and workshops, with lots of time to walk around the grounds, and get writing done.  
These really are chances to learn more, but also to consolidate those ties that you have with one another as students. Our goal is for that to last forever, for you to have this writing community that you take with you when you complete the programme.   
Thank you to Chris for talking with us about the programme! 
Hone your creative writing skills and discover the techniques seminal writers have used to significant effect with Hull Online's MA in Creative Writing. Join us in January, May or September.
This content was originally published here.